Bad luck but the championship lead remains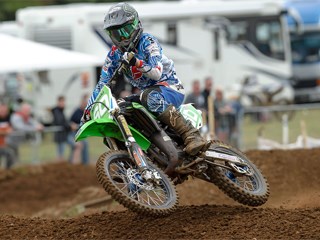 Team Green Kawasaki headed to Culham for round six of the inaugural MX Nationals this past weekend with confidence following strong performances the previous weekend at the British Youth Nationals.
The team came into Culham with the points lead in the under 16 class in the form of Dylan Woodcock and he was keen to extend the lead. The under 16 class is a combined championship of big and small wheeled 85cc machines and although it's one class, effectively there's two championships in one race. In the small wheeled category Lewis Hall came into the weekend second in the standings and was also keen to put it to series leader Ben Clark. Jed Etchells, still being hampered by his shoulder injury just wanted to do what he could and mix it with Dylan at the front on the pack.
It was looking good for Woodock and another overall win for Team Green with an inspired ride in moto one, coming from down the field to to nearly win the opening moto as he crossed the line just behind his main threat in the championship, Marcus Phelps. In moto two he was involved in the race of the weekend between himself, Phelps and Brett Pocock, coming out the winner with a calculated overtaking move just before the last lap. The wheels came off the overall win in the next moto though as a small mechanical breakdown took him out the race when he was again closing in on Phelps and Pocock ahead of him. Jed, in some discomfort, battled the best he could all weekend to bring it home sixth overall while Lewis just got better and better all weekend. The highlight being catching and overtaking series leader Ben Clark in the last moto but unfortunately slipping off on the last lap.
Jeff Perrett - Team Manager

"I think if it wasn't for that DNF Dylan would've won the overall and stretched out his championship lead. He certainly proved his point in the last moto by convincingly winning that one. He's lost point to Marcus but is still in a good position at the top of the standings with two rounds to go. Jed is doing all he can and I feel for him. He desperately wants to race and I'd never want to stop a riding doing that but he's struggling with his shoulder so we'll get him checked up and see if he's not making it any worse, if he is, then we'll have to consider keeping him off track for a while. Lewis was excellent I thought. The track was much more hard pack than normal and that's not his strong point but he got progressively quicker as the weekend went on and by the end of it was arguably the fastest small wheeled rider out there even though he didn't win. That's really encouraging because Ben Clark has been the most consistent and fastest rider in the class for the best part of the year. Now Lew is clear of his chest infection and niggling injuries he's showing the form he had at the start of the year where he was beating Ben and the rest of the competition."
Dylan Woodock - #60 - Big Wheeled KX85

"I felt good again this weekend and was just unlucky not to win. It's one of those things and I have to deal with it because it happens to everyone at some point. I've still got a good lead and I feel like I can win the last two rounds so I'm feeling confident about winning this championship. I'm going to be spending the week with Bry Mackenzie and Lee Perfect up in Scotland getting ready for the final British Youth Nationals so I'm really looking forward to that and the race at Lechars next weekend."
Jed Etchells - #7 - Big Wheeled KX85

"I'm just struggling a bit. I know I'm not 100% but I really want to race and do well for myself and the team. This weekend the track was rougher than last weekend and I haven't been able to hold on or push as hard as I did then. I'll get my shoulder looked at again this week and hopefully it will be better for next weekend, if it's not then I may have to sit it out, but I don't want to do that."
Lewis Hall -#9 - Small Wheeled KX85

"I felt really good this weekend, much better than I have been the last few races. I can breathe properly again now and it felt like I had so much more energy. The track was much more hard pack than usual but I got on pretty well with it and liked it. I know I'm not quite as good on hard pack as I am in sand or soft dirt but I felt much more comfortable on it this weekend. I haven't been able to get that close to Ben for most of the year but today I caught him up and passed him and that felt good. I'm really looking forward to next weekend now because that's sand and I'm feeling good."
Return to the previous page