All that glitters isn't gold
The 2015 race season started with an incredible atmosphere, not only for Team Green but for most racers and fans as it burst into life at Manchester's Phones 4U Arena for the opening round of the UK Arenacross tour this past weekend. 
Preparations had been good for the team leading into the event and everyone was feeling confident and relaxed about the opening round of eight that will see Team Green whistle stop around the UK over the next two months. On a very technical track all was good after qualifying with Dylan Woodcock setting the fastest time in the big wheel class qualification by just shy of two seconds over his nearest rival. His team mate Jed Etchells brought his KX85 home in fifth after riding a little tight with first night nerves. In the small wheeled class Lewis Hall qualified in a healthy second place and looked strong for the final come showtime. 
In front of a sell out 6,000 crowd Dylan got a killer holeshot in the big wheeled final and instantly started to pull away from the opposition, unfortunately for Jed it was the complete opposite as he was stranded at the start gate with what turned out to be a broken spark plug. Meanwhile 'Beaker' Woodcock was stretching out his lead at the front even though on lap one he was signalling he had a problem. That problem became more obvious as the race went on, even though he continued to extend his lead, as steam was flowing from his bike. With two laps to go and nearly a half a lap lead the bike stopped. On the opening lap somehow the radiator hose to the water pumped had been ripped off and the bike had lost all of it's water and seized up. 
It was another KX85 holeshot in the small wheeled class as Lewis nailed it, proving that he's been working hard on his starts from 2014. Unfortunately for him going down the first rhythm straight he caught his foot on a tough block that pulled down and off the track. All caught up in the tough blocks and power cabling it took him an age to get going and by the time he did he was half a lap behind but he put an incredible charge worthy of his nickname 'Animal' to get up to fourth by the drop of the flag to definitely keep him in the championship hunt after the opening round. 
Jeff Perrett - Team Manager
"Well that was a bitter sweet experience for sure. It was all looking good after qualification but unfortunately it didn't happen in the finals, but we have to be positive and look at the pace of the lads. All three of them were unlucky and luck seems to show up more in Arenacross. Jed was really unlucky, it's a freak situation that doesn't happen very often. Dylan was so dominant up until his misfortune, but his spirit and confidence is still extremely high for the rest of the series as you'd expect, the same goes for Lewis. He didn't make the box but he was ripping and has the speed to win for sure. Obviously it's disappointing not to win because that's what we strive to achieve every week but the performance was good, we just need Lady Luck to peck us on the cheek rather than slap us in the face."
Dylan Woodcock #60 - Big Wheeled KX85
"There's not much I can say really. I was unlucky, it's as simple as that. I felt good, I was riding good and had gapped the field by a long way even though I was losing power from the opening lap. So if I don't have bad luck at the next rounds I'm confident I have the speed to win. My bike was awesome and I'd like to thank Jason and Shawn for that and my dad for his help too, everyone really. The team just keeps getting better and stronger and I'm feeling good." 
Jed Etchells #7 - Big Wheeled KX85
"I'm gutted because I wanted to start the series well and keep it going. It's just one of those things I guess. I don't have to think championship anymore and I just have to go for it now to try and catch up in the points so I'm going to forget about tonight and look forward to Belfast and the rest of the series." 
Lewis Hall #9 - Small Wheeled KX85
"I had fun tonight. I wanted to win and felt like I could've but I just made a small mistake on the first straight and went off the side of the track, then it was really difficult to get back on it. There were cables and tough blocks caught up in my wheel for a bit. I came through well and I was pleased with my first holeshot in Areancross. Hopefully next time I can get the start again and not make any mistakes and get up on the top step of the podium."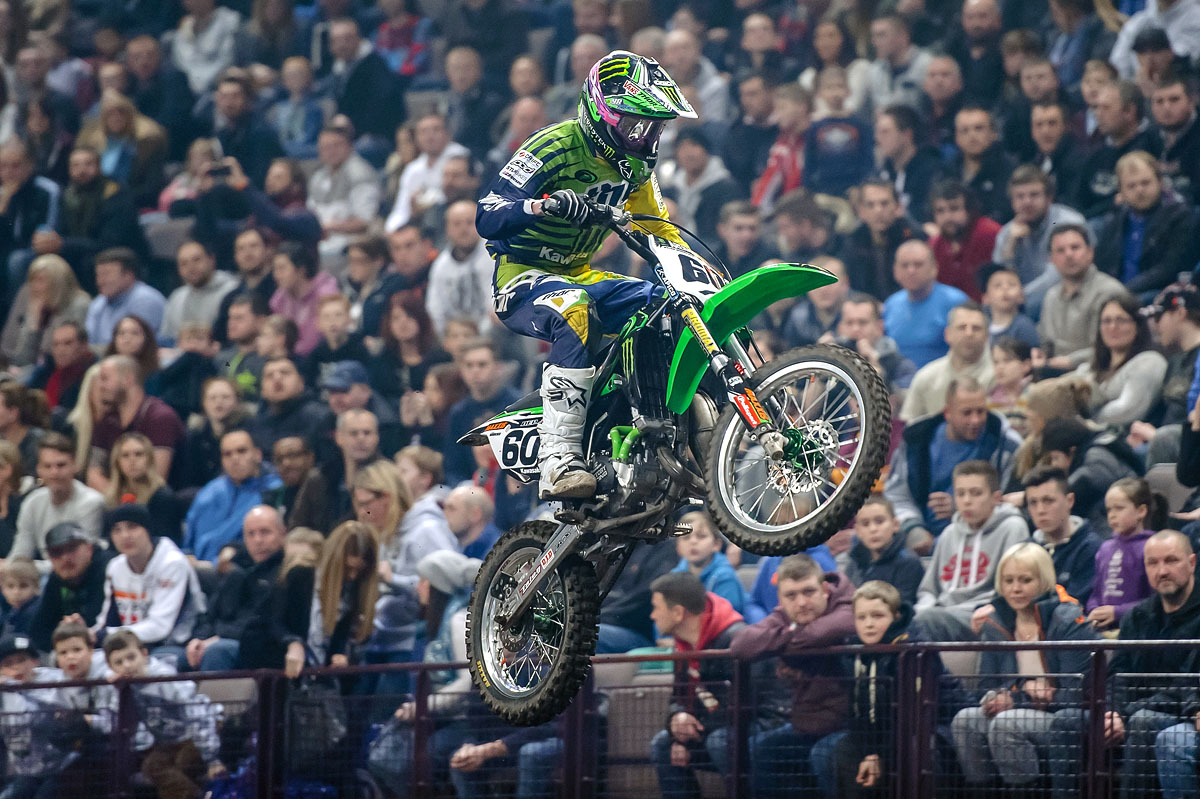 Return to the previous page