Two Kawasaki riders on opening Isle of Man TT Superbike race podium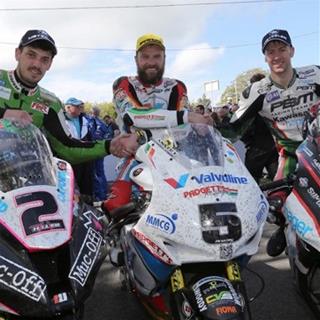 Following a delay to the scheduled Saturday running of the first Superbike race of the 2015 TT festival anticipation was high as the riders lined up on Glencrutchery  road on Sunday 7 June.
Kawasaki supported teams fielded some impressive seasoned TT riders with James Hillier, Gary Johnson and Ian Hutchinson all expected to do well against some stiff opposition.
Recording his fastest ever lap from a standing start, Hillier posted a remarkable 130.709mph. Having caught up with 21-times TT winner John McGuinness who started 10 seconds ahead on the road, the Quattro Plant Muc-Off Kawasaki rider diced for a podium spot across the whole race building on his already formidable TT reputation.
For Gary Johnson and the GBmoto team, the promise of TT practice was not fulfilled as the Lincolnshire rider crashed sustaining just bumps and bruises at Guthries.
For eight time TT winner, Ian Hutchinson the predictions of seasoned TT watchers were fulfilled as he rode an extremely accomplished race on the Paul Bird Motorsport Ninja ZX-10R. Leading on the opening lap, "Hutchy" was always in contention and, at the flag only had to give best to Kiwi, Bruce Anstey celebrating his first big bike win.
Luck was not with hot Irish prospect, Michael Dunlop, who slipped from his hastily adopted machine within sight of the finish elevating Hillier to third spot and making it a Kawasaki two and three for one of the most anticipated races of TT week.
James Hillier: "With John starting ahead of me, my plan was always to try and chase him down and I couldn't have been happier with my opening lap. I got a glimpse of him in a few places and tried to close him down and I eventually caught him on the second lap. I knew I'd be fairly close to the podium if I could do that but Bruce, Hutchy and Michael were lapping just that little bit quicker. There were a few rain showers on the west part of the course as well and I had a pheasant come out in front of me in Kirk Michael so that unsettled me a bit."
A disappointed but thankfully unhurt Gary Johnson said after the race: "After the week we had we can certainly be pleased with how that race went. Obviously to be so close to the finish and fall at the final hurdle is incredibly disappointing. We have struggled with some things during practice, but the team did a mega job to considerably improve the bike
 ahead of the Superbike race so full credit to them".
Ian Hutchinson: "I got away well and just tried to settle into it and was happy with my pace over the first couple of laps. The first pit stop went well but then halfway through the race it started raining on the west of the Island which unsettled me a bit. I gave it all I could on the last couple of laps but Bruce did enough to win and I'm pleased for him. For me to come back here and be so competitive, this is the first time I've raced at that kind of pace for five years now I couldn't expect too much, I can only get stronger from now on. The bike and team is capable of winning so there's a lot more to come."
Kawasaki finishers in first Superbike race of 2015 TT festival – 7 June 2015
2/ Ian Hutchinson
3/ James Hillier
13/ Daniel Heggarty
14/ Russ Mountford
16/ Alan Bonner
17/ Ryan Kneen
19/ Stefano Bonetti
24/ Sam West
40/ Mark Goodings
Return to the previous page