Wins and adversity
After much anticipation the Maxxis British MXY2 championship got underway at Lyng, Norfolk this past weekend and Team Green Youth riders Dylan Woodcock and Jed Etchells were keen to get off to a solid start. After two races and a few incidents on the tough, rough sand based circuit Dylan came home eight overall with Jed 13th. Their younger team mate Lewis Hall stormed to overall victory at the Judd Premier MX Cup at Mildenhall.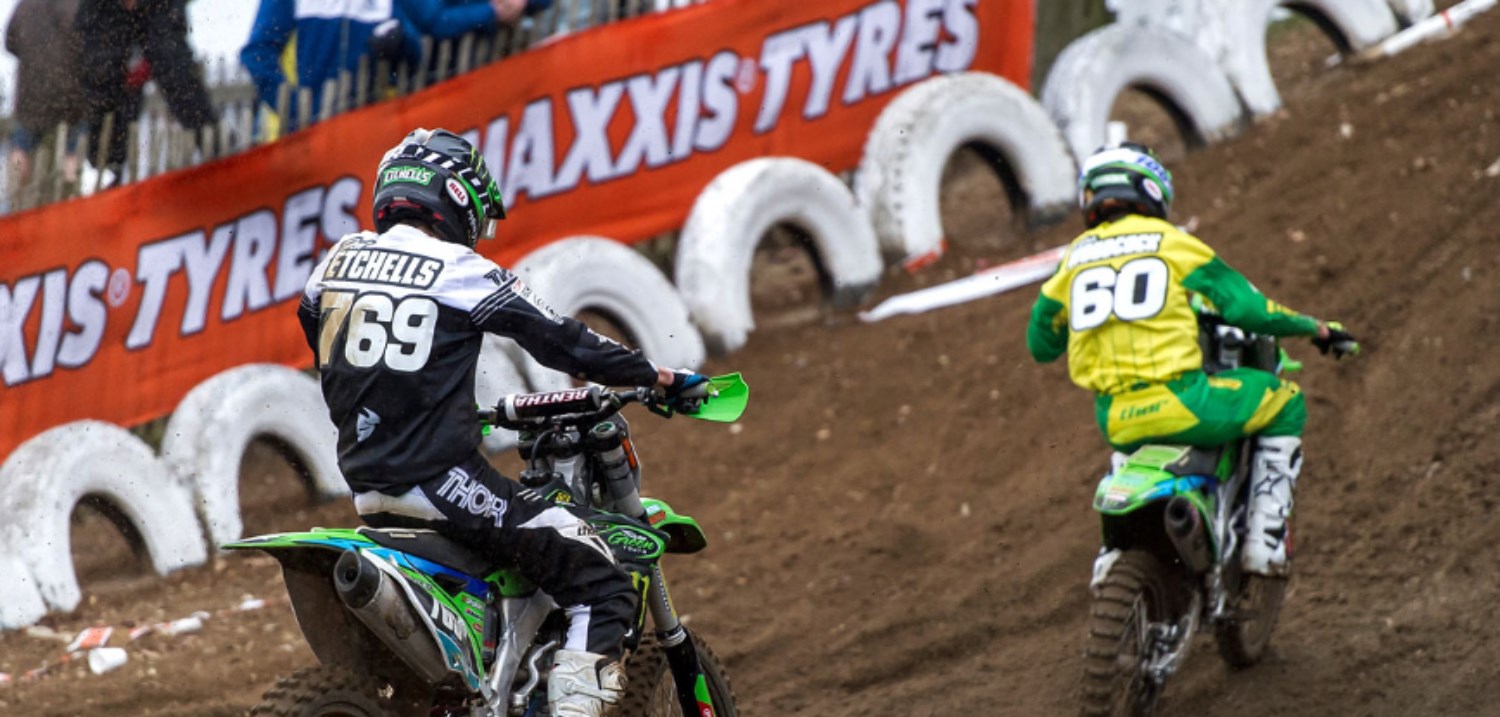 Jeff Perrett - Team Manager
"It's an okay start to our Maxxis MXY2 championship. Dylan had a strange day really and Jed had some misfortune that made it more difficult for him, especially as he's still working back to fitness after nearly four months of not riding. Dylan's qualifying wasn't great, but then to be fair he's not renowned for being the best at that. It's something he needs to work harder on and improve. He qualified seventh right at the end of the session, which wasn't too bad considering he didn't feel comfortable with the feel of running mousses in the rear tyre. Jed's chain snapped just before the qualifying session was about to start and his pit crew didn't have the spare bike ready to go and he missed qualifying altogether. A harsh lesson there and a mistake that won't be happening again. 
"In the first moto Dylan rode pretty decent. Not the best I've seen him ride or know how he can ride but it was a solid, steady start to his championship with a fifth. Jed got a flier from where he was on the far inside of the start line. He then had a crash and had to work hard back up to 16th, but I was pleased with how well he was riding considering the time he's lost to the others with his injuries. The second moto was the worst I've seen Dylan ride for sometime. For whatever reason he just couldn't get going and after a bad start made little impact to move up to 11th. It was a strange one, and we'll analyse why over the the weeks leading up to the next round. Jed rode a strong consistent race to come in just behind Dylan. It was good progress made, both on the track from his starting positioning where he didn't really have a chance of coming out of the first corner in the top 20, but also it was just good for him as he works his way back to full fitness. 
"The highlight of the weekend was of course Lewis' dominant win at the Judd Premier Cup at Mildenhall. He absolutely ripped to four out of five wins and his starts we're much more like what we're looking for going into the first Thor British Youth Nationals on April 2/3. Dylan is now flying back to America to compete in the first set of qualifiers for the Loretta Lynn's Amateur Nationals, then he's back for the next Maxxis MXY2 alongside Jed at Canada Heights on 23/24th April." 
Dylan Woodcock #60 - KXF250"Eight overall is not where I wanted to be after round one, but at least I didn't have a complete shocker like a DNF or something. I found it hard this weekend. The track was brutal and I think I got a bit caught up in the hype of it being my first Maxxis British championship race. I didn't flow like I normally do so I need to think about that more and come in to the next race with a little more focus on what I need to do. I've won a lot of races at Canada Heights and it's a track I like so I'm already starting to think about it because I know I can race for wins and the podium." 
Jed Etchells #769 - KXF250"Apart from the bad luck with the chain and a couple of small crashes I'm happy with how it went. I know I can't rush back or expect to be racing at the front after so long off but I know I can be after a few more races. I felt good on the bike and smooth most of the time and my fitness was pretty good. I've just got to keep concentrating on doing the right things and then I know I'll be getting back to near the front." 
Lewis Hall #419 - KX85"I really enjoyed Mildenhall this weekend and it's always cool to win. I rode hard but also as smart as I could and the best thing about the weekend is that my starts were so much better. That's given me even more confidence going into the first British Youth Nationals at FatCat. My bike is ripping and I feel strong and healthy. Everything is really good at the moment."
Return to the previous page