Kawasaki dominates Brands Hatch opening BSB event
As machine of choice for a vast swathe of the British Superbike paddock, Kawasaki teams and riders enjoyed podiums in all of the major races over the opening weekend of the Championship at Brands Hatch in Kent.
In the blue ribbon Superbike Championship, Shane "Shakey" Byrne laid down a marker in qualifying with an imperious display to secure pole while, at the same time, helping new team mate, Keith Farmer, with a "tow" to establish a good grid position for the Irishman.
Byrne was in sparkling form and confirmed his intentions in the opening race aboard the Minxflix.com-backed Kawasaki Ninja ZX-10R as he shadowed Josh Brookes in the early stages before making his move at half race distance. From there, he was able to gradually edge away from Alex Lowes and eventually took the chequered flag by just over a second to clinch his 42nd career British Superbike race victory for the Penrith-based PBM team.
Among the chasing pack were Farmer and Chris "Stalker" Walker who finished sixth and seventh respectively both comfortably ahead of multiple former BSB Champion, Ryuichi Kiyonari.
In race two Byrne got away characteristically well from the line and was in a commanding position. In the company of recent MotoGP returnee, James Ellison. Byrne was looking for his seventh successive Brands Hatch victory and with three laps to go, made a move. Ellison covered it and Byrne subsequently ran wide onto the grass before re-joining and crossing the line in third place for his second podium of the day and a points lead in the Championship going into round two.
A reinvigorated and typically hard charging Karl Harris posted a popular seventh place on his PR Racing Kawasaki while Stalker on his Quattro Kawasaki pushed hard for another top ten and valuable points in eighth place for the official Kawasaki Motors UK team. Farmer, meanwhile, filled the final spot in the finishing top ten despite having endured arm pump earlier in the day.
Securing a one point lead overall in advance of the upcoming Thruxton round, Bryne also contributed towards a Kawasaki lead in the manufacturers Championship and heading a trio of three Kawasaki riders in the top ten points wise.
Shane Byrne: "It's nice to get the first two races and pre-season nerves out of the way and to come away with a first and a third is a good start and I'm happy with how the day's gone.
Keith Farmer: "The aim for this weekend was to put in a solid performance and to come away with a couple of top ten results and that's exactly what I've done. We showed some good pace in qualifying and ran with the leaders in race one but I struggled a little with arm pump."
In the Supersport Championship Kawasaki's Official team, Gearlink, entered round one with two of the strongest riders and a fast, reliable package in the form of their highly developed Ninja ZX-6R machinery. Racing over two weekend days, the team were already on the front foot for the first race of 2013.
The sprint race on Saturday afternoon got off to an exciting start after the initial race was cut short due to a red flag. On the re-start Ben Wilson got the hole-shot and led the race for the first three laps. It was a very close race with established star, Ben Wilson, and team newcomer, the vastly experienced Alastair Seeley soon swapping green paint work and dicing for an eventual third position with Wilson a close fourth.
Their times from race one put Alastair on pole for race two and Ben in second position; as the lights changed green the two Gearlink Kawasaki riders left the line with Alastair first into turn one and Ben a close second. It was one of the most exciting British Supersport races in years with seven riders battling it out at one point for the overall win with the two Gearlink Kawasakis heavily embroiled in the action.
With Ben leading, an uncharacteristic final lap mistake out of Graham Hill Bend baulked him and Alastair seized the opportunity to take the lead and the eventual race win, with Billy McConnell second and Ben in third, with only 0.4 splitting the top three.
Alastair Seeley - "It's been a really mega weekend for myself and the Gearlink Kawasaki Team, it's good for my confidence after having a tough 2012 season to get back on the top step of the podium."
Ben Wilson - "Well it's been a pretty good start to the year for me, already better than 2012 so hopefully we can work on this and progress and move forward. I got good starts in both races and the second race was certainly tough. Already I reckon this year is going to go down to the wire."
In the stock racing classes Kawasaki riders displayed equal dominance. A Ninja ZX-10R dominated Pirelli National Superstock 1000 race was won by a successful rider and team who moved to Kawasaki over the winter period. Adam Jenkinson on his SMT Racing machine was in the leading pack throughout the race and overcame TT legend, John McGuinness and passed debutant Filip Backlund riding his ILR Kawasaki to secure the win.
Following third place man McGuinness – who joked about the superior speed of the Kawasaki machines on BSB Radio - were Peter Ward and Hudson Kennaugh in fourth and fifth with Johnson, Burns, Railton plus Brogan rounding out the top ten on their Ninja Superstock machines.
The story was much the same in the Pirelli National Stock 600 Championship with no less than five Ninja ZX-6R machines in the top ten as the chequered flag dropped at race end. Securing third spot, James Lodge was happy to be on the podium and to have a solid start to his season on his Moto-Breakers Ninja ZX-6R.
James Lodge - "It was a good weekend for me this weekend and I'm really pleased to get my first podium of the season. I want to keep consistent this season and push hard all year and get good points."
With an amazing fifty per cent of the final top ten in the stock 600 class Kawasaki mounted, the weekend overall was the start that Racing Coordinator, Ross Burridge of Kawasaki Motors UK dreamed of in the closed season.
"The preparation for 2013 has been immense. With so many teams and riders already Kawasaki mounted we have seen a huge influx of additional interest in Ninja machinery. In the Stock 1000 race an amazing seventeen of the top twenty riders were riding a Kawasaki. Add the fact that Kawasaki riders and teams lead the Superbike, Supersport plus Superstock 1000 Championships and we could hardly be in a better frame of mind in advance of the fast and furious action next weekend at Thruxton in Hants."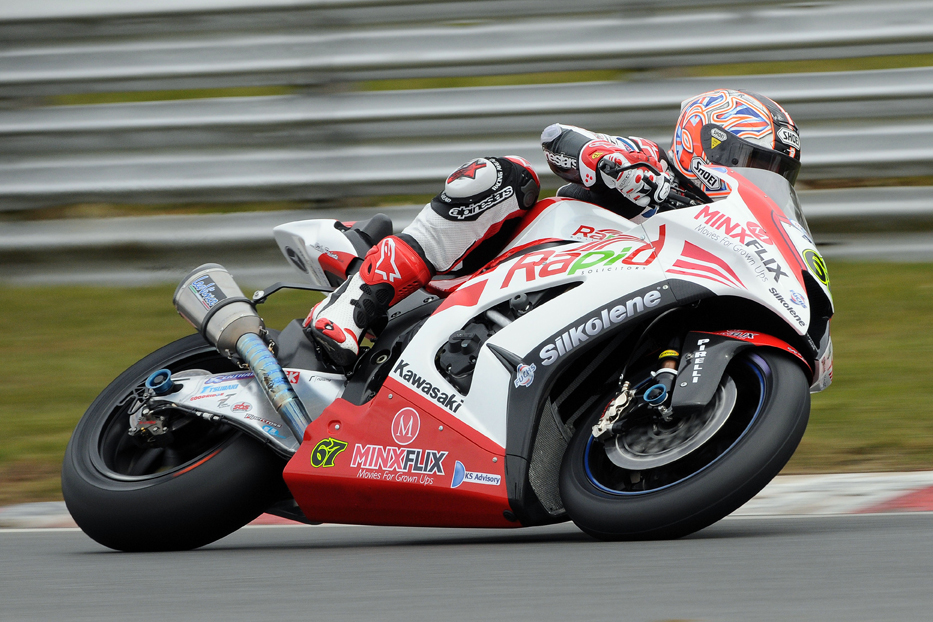 Return to the previous page