Kawasaki teams and riders make "Dream BSB start"
Across all classes they competed in, Kawasaki teams and riders made a text-book start to the BSB season at Brands Hatch despite some challenging conditions in the early part of the weekend.
With Spanish winter testing but a memory, riders in the Superbike, Supersport and stock based championships faced unpredictable, wet and slippery conditions on Easter Sunday for final qualifying. With little time for so many riders to try to gain a favourable grid position, qualifying was marked not by impressive times around the Brands Hatch Indy circuit but, instead, a tally of crashes, damaged machines and bruised riders.
Worst off of all front runners was two-time champion Shane "Shakey" Byrne who could not set a competitive time after a fall and found himself on the 5th row of the grid for Monday's first race of the season.
Better placed was "Old but Gold" Chris Walker a past master in such conditions having won a World Superbike race at Assen in the wet riding from last to first place. In fourth, Walker was well positioned on the grid to be in touch on the first three corners that are vital on such a short circuit layout.
Richard Cooper who did so much to impress last year at Brands Hatch was a commendable sixth on the grid and returnee to Superbikes – but for the very first time with the Gearlink Kawasaki squad – was hard riding Ben Wilson.
In Supersport, Gearlink showed why they are once more the official Kawasaki entry in the class with first place on the grid for Glenn Irwin and his teammate Luke Hedger in fifth.
With so many teams and riders opting for the Ninja ZX-10R in stock 1000 racing it was perhaps inevitable that the local rider Danny Buchan on pole was joined on the front row by fellow Kawasaki rider, Josh Elliott.
And in the stock 600 category Kawasaki Riders Club supported rider, Mason Law repaid the faith of his fans with second spot on the grid and an impressive sub 48 second qualifying lap.
Come race day and the sun shone making grid positions more tenuous as experienced riders made plans to get a good start and pick off riders ahead of them in the opening laps.
For the maiden Superbike race that meant a fight for honours among Kawasaki runners as the race was stopped and restarted due to a machine fault that affected the track surface.
Having pushed his way to the front and briefly led the first start, Chris Walker set about his task once more on the GBmoto Kawasaki and, in hot pursuit, his new team mate in a new team, James Ellison. As a Kawasaki supported team for 2014 – and having switched manufacturers in the closed season – the motivation for Mark Smith-Halvorsen's squad was intense and they delivered not one but two spots on the podium at race end with Walker second and Ellison just 0.057 seconds behind.
Heading the charge was the master of Brands Hatch, Shane Byrne on his Paul Bird Motorsports Rapid Solicitors Kawasaki showing why he and the team are so strongly fancied for further success in what will be another classic season of racing.
With race two a reflection of personal best times set in the opener, a Kawasaki close-out of the front row of the grid saw Ellison on pole, Shakey second and fast starting Walker in third spot.
Uninterrupted this time, the race went the full distance of thirty short laps and, once more, 37 year old Byrne displayed all his race craft to come home winner. Pushed hard by tumbling lap times, the Kent rider measured his pace to stay just enough ahead to win yet not risk tyre damage that would cut his lap times.
With a resurgent Josh Brookes second, third spot on the podium – and third podium of the day for GBmoto went to James Ellison who also posted the fastest lap signifying his acclimatisation to the Ninja to be complete.
For stock 1000 fans there was much to cheer also as Buchan converted a pole position into a race win for his Tsingtao WK Kawasaki team and was joined on the podium by fellow Kawasaki rider, Josh Elliot in third place. Overall there were fourteen Kawasaki machines in the top twenty so the chances of lime green victories in following rounds are assured.
In Sunday's "Sprint race" for 600 Supersport machines, Glenn Irwin topped the podium for himself and Gearlink Kawasaki with a win over some stiff competition and carried that enthusiasm into Easter Monday. Not able to repeat the win in race two, Irwin posted an impressive fifth spot netting himself top spot in the championship ahead of the next round at Oulton Park in Cheshire.
Using the Ninja ZX-6R as his base machine for the Stock 600 event, Mason Law rode in front of a legion of Kawasaki Riders Club supporters in the Easter Monday race. Part of a Kawasaki 1-2-3 on the podium, the rider coached by former Kawasaki World Supersport Champion, Andrew Pitt, ended second ahead of Joe Collier and chasing James Lodge to the finish.
"What a start to the season, I am breathless," said Race Coordinator for Kawasaki Motors UK., Ross Burridge. "To see Shane do the double and for the GBmoto team to podium in the first race on Kawasaki machinery was a dream start. Added to Danny's assertive win in stock 1000 plus great results in Supersport and Superbike for Gearlink Kawasaki and you have some strong reasons to be optimistic about the next round. Finally, Mason Law had every reason to be proud of his performance at Brands Hatch in front of the Kawasaki Riders Club members that are so supportive of his efforts".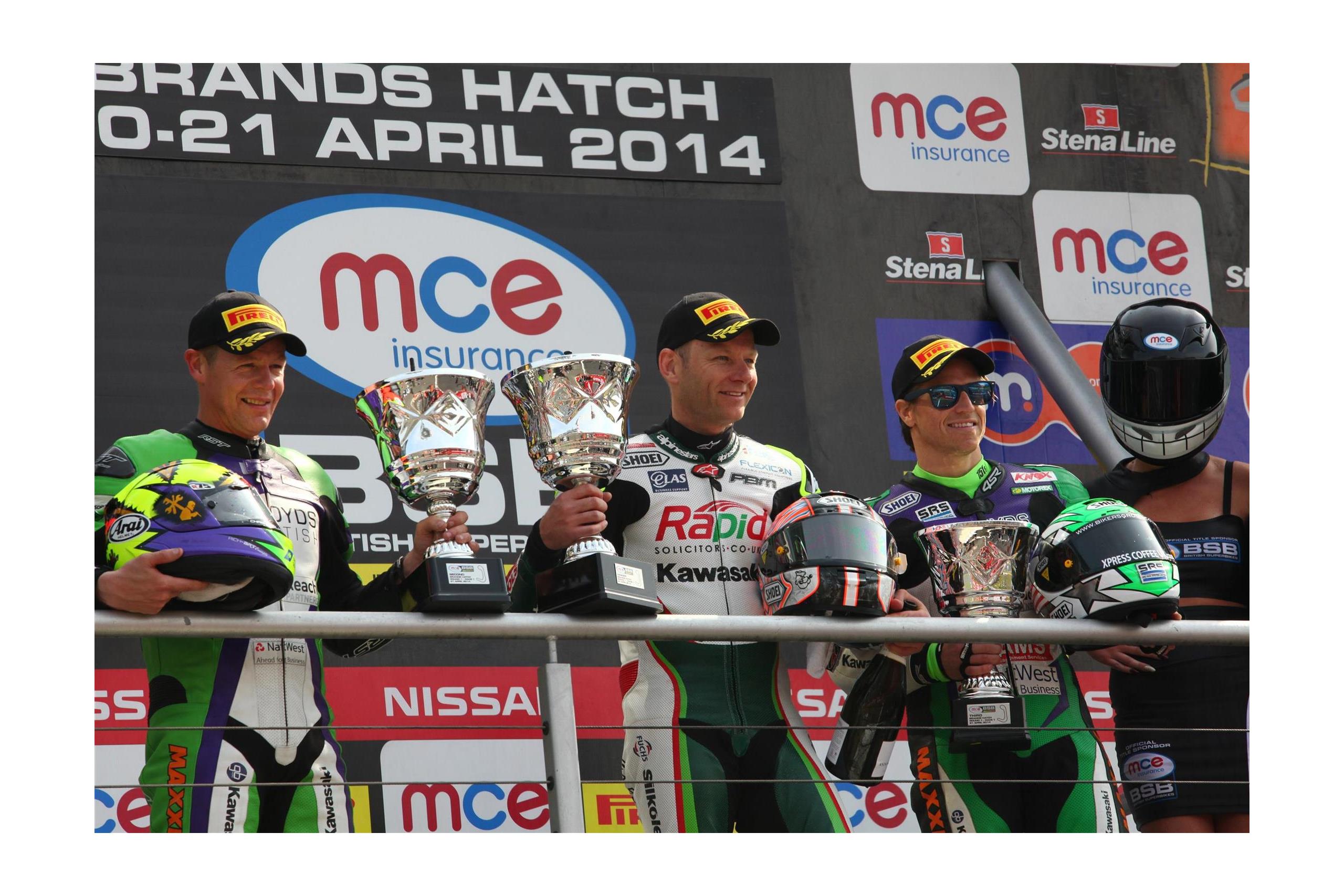 Return to the previous page