Ninja momentum continues at Oulton Park
Opening their series challenges with good performances all round at the Brands Hatch season opener, Kawasaki riders again made an overwhelming impression at Oulton Park.
With huge crowds present across the three days of qualifying and racing, the Cheshire circuit witnessed some spectacular racing and, in the case of Chris Walker, a monumental tumble that left the rider unharmed but his machine engulfed in a huge fireball.
With a newly rebuilt Ninja ZX-10R, Walker put the rare off behind him and, along with other Kawasaki riders, set about qualifying. For Byrne it was "business as usual" as he topped the timesheets to take pole position with a sub lap record time for race one followed by Brookes and then GBmoto rider, James Ellison in third, Stuart Easton in fourth and Dan Linfoot in fifth making it four Kawasaki's in the top five ready for race one.
In Supersport qualifying, Glenn Irwin pushed his Gearlink Kawasaki to third place for race one which took place on Sunday while, in the Stock 600 class the first four places on the grid were Ninja ZX-6R machines headed by Ben Godfrey on his Tsingtao WK Kawasaki fettled by the Essex based MSS Performance headed by Kawasaki stalwart, Nick Morgan.
For 1000 Superstock, the timesheets were dominated by another Essex personality, Danny Buchan setting a time on his ZX-10R over half a second better than his nearest rival.
Come Bank Holiday Monday and the crowds flooded into Oulton Park ready for a fascinating brace of Superbike races.
Race one was a complex affair with Kawasaki riders enjoying strong starts, however an incident mid-pack necessitated a four-lap pace car deployment to clear the debris. As the car returned to the pit, the race re-started in earnest with Byrne leading, Ellison second and Walker fourth in the first corner.
Unfortunately, an uncharacteristic moment for Chris on lap seven saw him crash out of contention while just a few laps later James ran on into the Hizzy chicane. He was however able to re-join in third place, where he went on to claim his third podium of the year, continuing his and GBmoto Kawasaki's 100% podium record. For Byrne – who had seen Brookes briefly edge ahead – it was another victory making it three from three in the Superbike class for 2014. In all there were six Ninja machines in the top ten.
For race two it was a familiar story with Byrne and Brookes dicing for the lead and Ellison making his play for another podium slot. Walker – who had slid off in race one - gambled on a soft tyre for the second outing which did not pay off relegating him to eighth spot as the flag dropped. Easton however had some cause to celebrate with a fifth and a fourth elevating him to fourth in the final standings behind Byrne, Brooks and Ellison.
While Irwin mirrored his third spot on the grid with a trip to the final step of the podium in the Supersport race, Kawasaki fans were hopeful of further good results in the 600 and 1000cc Stock classes.
For Joe Collier a second place at race end was enough to take him to third place in the Stock 600 points standings while James Lodge in third racked up enough points to head the championship going into the next round at Snetterton.
Perhaps the Kawasaki performance of the weekend though was delivered by Danny Buchan. Untouchable in qualifying, he powered his Ninja ZX-10R machine to a commanding position in the Stock 1000 race delivering the fastest lap and crossing the line with a huge five second lead over the second place man Jason O'Halloran. Again it was a case of strength in depth with five Ninja machines in the finishing top ten and Buchan a solid ten points ahead in the points standings.
"Brands Hatch was good and this takes things to another level", commented Kawasaki's Race Coordinator for the UK, Ross Burridge. "Shakey is the man of the moment and GBmoto have underlined their arrival in BSB with James and Chris in emphatic style.
Add the podium in Supersport and two in the Stock 600 race and you have a platform for ongoing success. Speaking of which, Danny Buchan has proved to be the man to beat in Stock 1000 with strong, fast and consistent pace. Snetterton is going to be electric. It looks like another amazing BSB season is on the cards"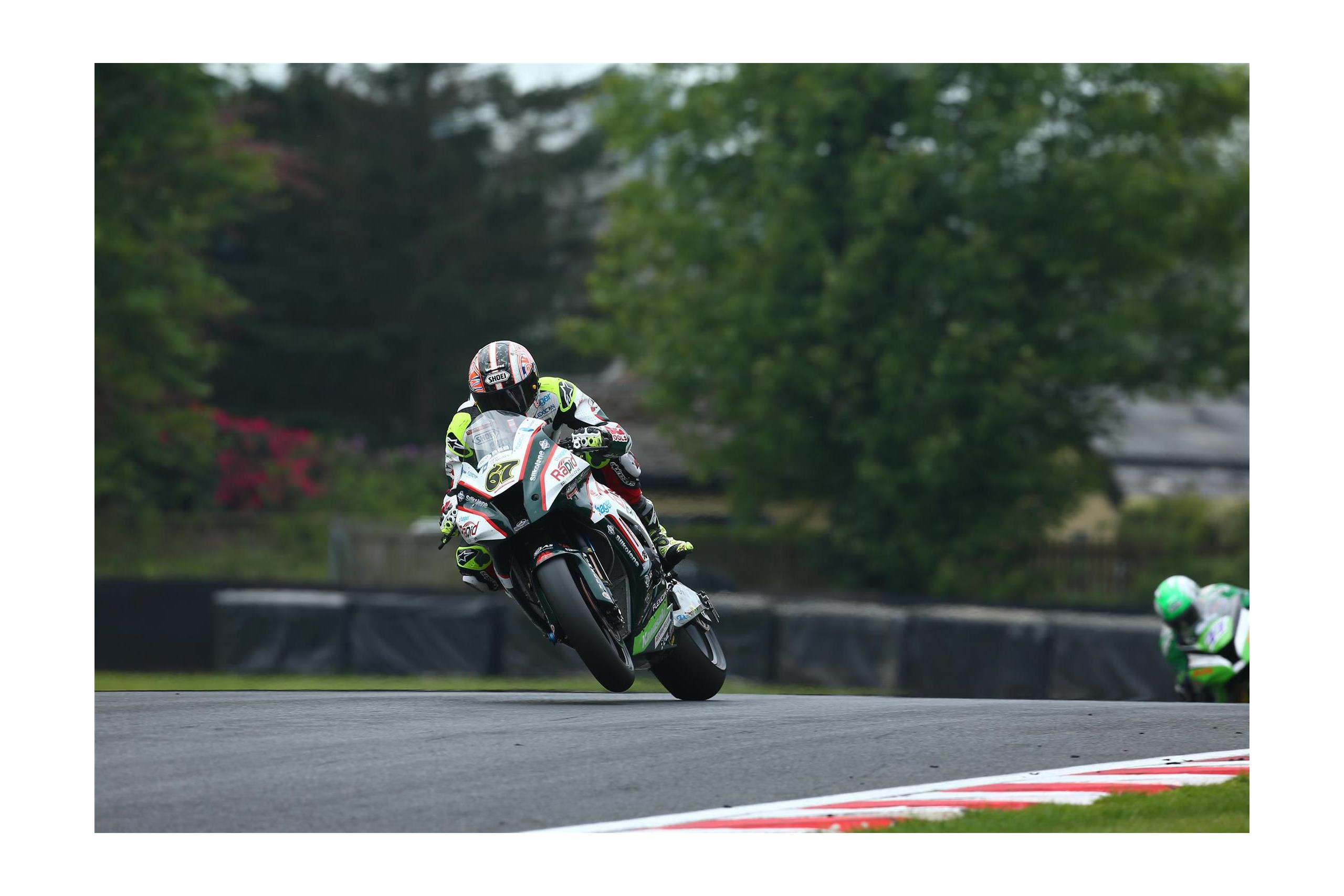 Return to the previous page