Silverstone silverware for Kawasaki riders
A rain affected qualifying did little to dampen the enthusiasm of Kawasaki riders at the penultimate race of the 2014 BSB season. And with so much at stake it was a bonus for crowds and riders alike that Sunday's racing was unaffected by the previous squalls.

At the head of the race card the ongoing battle between reigning Champion Shane Byrne and former series titleholder, Ryuichi Kionari shows no signs of abating - much to the delight of spectators who once more witnessed close racing in the most competitive domestic superbike series on earth.

In race one, Byrne got a good start and soon a familiar pattern was established with the Rapid Solicitors Kawasaki rider joined in the leading group by Kiyo and the predictably quick Josh Brookes. With a three way battle for the lead and precious points it went down to the final lap as most memorable racing encounters do. Byrne tried his hardest and finally crossed the line to win, but not until the lead had changed no less than seven times on the final circulation of the Northampton circuit. Byrne was joined by two other Kawasaki riders in the top ten as Dan Linfoot crossed the line in fifth and Stuart Easton sixth.

Race two also featured a "breakaway" pack with no less than six riders pursuing the maximum points for a race win. James Ellison – back to full fitness and sporting a GBmoto ZX-10R in Teenage Mutant Ninja Turtle paint scheme – made good use of a fifth place grid position and stayed in touch across the whole race. At the leading edge, Byrne made in roads but, ultimately, decided to ride for points and placed himself second on the day and twelve points ahead in advance of the final round at Brands Hatch in mid-October.

For Ninja ZX-10R fans there was more to celebrate at Silverstone as hard-charging Danny Buchan claimed the Superstock 1000 Championship with a round to spare. Always a spectacular rider, Buchan has topped practice or broken lap records at a number of rounds in 2014 effectively making him the man to beat with a target on his back.

With full-on Superbike experience to his credit, Buchan seemed hardly aware of his pursuers and wrapped up the Championship in style, much to the delight of his Tsingtao Kawasaki team.

There was a great deal to shout about in the 600cc classes at Silverstone with strong showings by the Irwin brothers in Supersport and Stock 600 races.

Having had to withdraw from the first of two Supersport races across the weekend, Glen Irwin delighted his Gearlink Kawasaki team by winning Sunday's Supersport event. From second slot on the grid the young Irish rider led from start to finish with a display of great guile and race-craft that netted him maximum points and fourth place in the championship.

His brother Andrew made the second step of the podium his own in the Stock 600 race just behind series leader Joe Collier who won and who will now focus on ultimate championship success at the final round.
Summing up the weekend, Ross Burridge of Kawasaki described his feelings:

"That truly was a weekend to raise a smile. World class racing paired with excellent race results made for some excellent viewing for all Ninja fans. We now head into the final round with a realistic chance of claiming three title wins, and with Shakey racing in his own back garden; we all have our fingers crossed for him to claim his fourth BSB title.
I'd like to congratulate Danny Buchan on his fantastic Championship win. He has worked so hard for that win, and is thoroughly deserved. I can't wait to see him progress into the Superbike class for the 2015 season."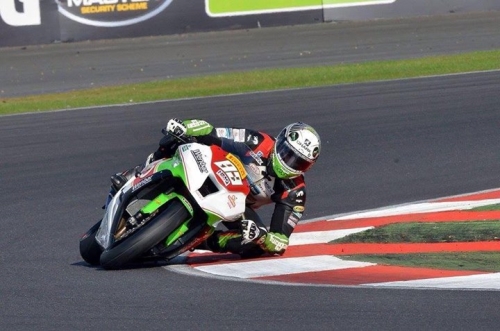 Return to the previous page