Byrne and Buchan deliver BSB double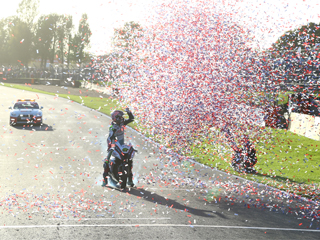 Another BSB season drew to a close on Sunday October 19 - and in all classes the cut and thrust of competition was spell binding.

For Kawasaki fans a double celebration was in order as local hero Shayne "Shakey" Byrne took an unpredicted fourth BSB title, while Essex-born Danny Buchan arrived at Brands Hatch already crowned as Superstock 1000 Champion.
It was not simply the Shayne and Danny show though as a weekend of highs – and some lows – unfolded with a magnificent crescendo on Sunday as the rain of the past few days made way for blue skies and sunshine.

With Friday practice and then qualification overshadowed by squally rain and treacherous track conditions, grid places look set to be somewhat of a lottery adding further tension to an already nail-biting finale.

For Byrne it was simple, he had to get the measure of and beat season-long championship rival Riyuchi Kiyonari. Both riders had a realistic chance of being BSB Champion at Brands Hatch and both arrived with the incentive that they could each make history.

So for fans and competitors alike it was a crushing blow to witness Kiyonari slide off and damage his collar bone on Saturday morning, an injury which side-lined him for the rest of the weekend. The tension did not end there – far from it. Pushing characteristically hard, Byrne also fell victim to the lack of grip on a cold and damp track sliding off without injury but, equally, garnering no points.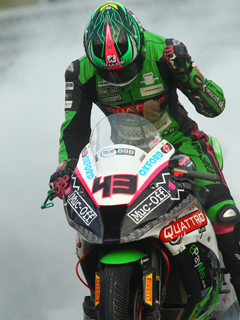 Kawasaki fans were in for a treat though as Quattro Plant Kawasaki rider Howie Mainwaring conducted a master-class in balance and control to push through the field for his maiden BSB win. Strong across the entire practice session, Mainwaring had every right to be proud of his podium topping performance and it set the tone for Sunday, the final day of BSB racing in 2014. Following in Howie's tyre tracks were no less than five other Kawasaki riders making it six Ninja ZX-10R's in the top ten.

Race one on Sunday could honesty be seen by many as a Kawasaki fan's dream. With James Ellison pushing hard from the start, the GBmoto rider hounded Byrne while Saturday hero Mainwaring also forced his way to the front and, for some time, threatened to make it a back-to-back wins.

By race end it was the three Ninja pilots that mounted the podium making it a Kawasaki one-two-three with Byrne victorious, Ellison second and Mainwaring a worthy third. In terms of grid places for Sunday's race two, this was exactly what each rider would wish for and, in Byrne's case, a chance to psychologically wrap the title up once and for all.

As if the tension was not enough, the final BSB race of 2014 turned into an epic with an eventual group of five riders dicing lap by lap for the lead. Byrne spent most of his time at the head of the field but his margin was small enough to let other riders like Ellison past. Josh Brookes had been trying to spoil the party all weekend but, in the end, his efforts were stymied by his own team-mate and his challenge faded.

Doing enough to garner the points to make him MCE BSB rider's champion, Stuart Easton kept pace with the group as Ellison and Byrne duked it out for supremacy. Only the arrival of the safety car toned things down a notch and, as another incident brought out the red flag Shane "Shakey" Byrne on his Rapid Solicitors PBM Kawasaki Ninja ZX-10R became 2014 British Superbike Champion.
In other classes Gearlink Kawasaki rider, Glenn Irwin, repaid his teams faith in him with a great double podium, and Luke Hedger in his first year in the Supersport class had a solid fourth and sixth, a great indicator for further success.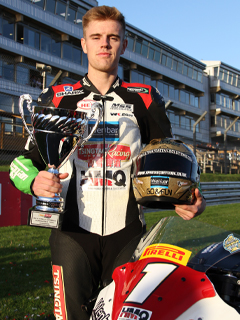 And in a style only he can display, Danny Buchan showed his true class in the Superstock 1000 class to come from last to first, albeit with a small electronic issue on the last lap causing him to just lose the win. On this showing nobody doubts he is going to be a main contender in the superbike class next year.

In Stock 600, Joe Collier of Be Wiser Kawasaki nearly made it three titles for Kawasaki as he had a target to win on Sunday to take the title. So close yet so far for Joe as he lead the race. A small error cost him dear with two laps to go and he ended the season on the podium again but without a well-deserved Championship to his name.
Ross Burridge of Kawasaki summed up the season thus - "I am over the moon for Shakey. We have seen how much effort he has put in all year. He, as much as we at Kawasaki, would have loved to see Kiyo fit to race this weekend. But that's racing and Shakey took full advantage to become the most successful BSB rider of all time.
With Danny also showing just how far ahead of the field he is in the Superstock class, it rounded off an amazing weekend and season for us. After 20 years without much success in this championship, we have truly showed the public what the Ninja range is capable of with two BSB titles and the Superstock 1000 Championship going to Kawasaki machinery. Roll on 2015!!!
For Shane Byrne it was a sense of relief saying: "After what happened on Saturday, I was paranoid about something going wrong on the first lap today and my only plan was to get through the first couple of laps unscathed. I could see the guys leading but there was no rush and I picked them off one by one to eventually get the lead. I just concentrated on running a steady rhythm and got my head down to eventually open up a gap. To take the title with a win is massive although, of course, it's a real shame Kiyo wasn't out there. Massive commiserations to him and his team as I would have loved him to have been battling with us in all three races. I was really tense in the final few laps but I brought the bike home and to wrap everything up with a double later on in the day was the perfect way to end the year. I'm delighted to win my fourth title so a massive thanks to everyone in the team."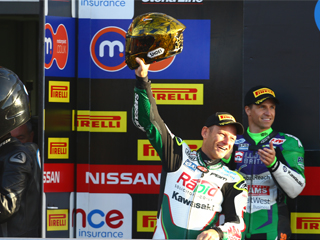 Team Principle Paul Bird added: "What can I say; it's been a good day for us and to be here again as British Champions is pretty emotional. Obviously with Kiyo being out injured, it changed things a bit and wasn't how any of us wanted the year to end but with Shakey crashing out on Saturday, the pressure was still very much on. He came out in true Champion's style though and to take the title with two wins was brilliant. I was delighted for Stuart as well winning the BSB Rider's Cup. He's been really strong these last few rounds and it's nice to have seen both riders do their jobs this weekend. It's been a great year for the team so a massive thanks to all the sponsors and for everyone that's been involved."

MCE British Superbike Championship  - race 2 (20 laps)
1 Shane Byrne (Rapid Solicitors Kawasaki)
2 James Ellison (Kawasaki)
3 Howie Mainwaring (Kawasaki)
4 Josh Brookes (Yamaha)
5 Stuart Easton (Rapid Solicitors Kawasaki)
6 Tommy Bridewell (Yamaha)
 
MCE British Superbike Championship  - race 3 (17 laps)
1 Shane Byrne (Rapid Solicitors Kawasaki)
2 James Ellison (Kawasaki)
3 Tommy Bridewell (Yamaha)
4 Stuart Easton (Rapid Solicitors Kawasaki)
5 Josh Brookes (Yamaha)
6 Dan Linfoot (Kawasaki)
 
Final Championship Points (after 12 rounds)
1 Byrne 682pts
2 Kiyonari 620
3 Bridewell 587
4 Brookes 584
5 Linfoot 577
6 Walker 525
7 Easton 231
Return to the previous page