And the podiums continue….
Team Green headed back to FatCat Moto Parc over the Easter holidays after being there the weekend before the ACU's British Youth Nationals. This time we were back for the second round of the inaugural MX Nationals.
It had been a busy week for the team with traveling, calling in at Stolen BMX to collect their new toys and the team's official photo and video shoot on wednesday, all of which went well and the lads even hooked up with Tommy Searle for the day. Come racing on Saturday morning though all of the lads were ready. Lewis Hall was keen to keep his 100% win streak going in the small wheel class, Dylan Woodcock was focuses on going one better than round one and standing on top of the podium and Jed was equally switched on to improve and reach the podium too. All of which never transpired but it was still a good and solid effort from all three.
Lewis came home second overall this time but still leads the small wheeled championship. Dylan also got on the podium in the big wheeled class, coming home second overall again and is now 17 points off the championship lead lying second in the series. Jed finished eighth overall this time out, not quite as good as his first round results but his riding was more aggressive and his speed was better, if not for a a little bad luck he would've been in the top five for sure. He now lies sixth in the championship but very much in touch of third place.
Jeff Perrett - Team Manager
"It was yet another good weekend for the team. We didn't win but they all rode well and learned a lot about themselves. The track was brutal for them, I know some of the pros were struggling with the conditions so it was definitely tough for the kids. Lewis was flying again but he had several incidents on the track, some of his own making, some he couldn't avoid. He had the speed and desire to win as always but it wasn't to be this weekend and credit to the winner Ben Clark, he was really strong this weekend. Lewis was on the podium again though and if you can do that at every round you'll always be in with a shout of winning a championship. Dylan was consistent this weekend and I was pleased with that. He was gutted after last week's spark plug failure and he really wanted to win. Obviously he didn't but he rode controlled and did what he could on a circuit that is far from his favourite to come away with good points and another podium. Jed was more aggressive this weekend and that's what we're looking for so we're making progress. He had a first turn crash in one moto and came from way down and showed desire, he was also unlucky in another going for a move on the last lap on the rider in front but that didn't work out. What I liked is that he tried it, maybe a few weeks ago he wouldn't have tried that. He ended the weekend with a solid third, he best result so far this year outdoors so I'm pleased for him. We all go to Whitby for the next round confident again, especially as all three of the lads really like the track."
Dylan Woodcock #60 - Big Wheeled KX85
"I wanted to put last week behind me and do well this weekend. I always want to win and I tried to make that happen this weekend but Brown was strong. I had a big crash in the first moto which wasn't my fault when me and Marcus Phelps touched wheels at speed so it didn't start off well. I need to practice more in sand, I don't mind it but I don't like this track really. I'm happy we don't have to come back this year. Two seconds so far is good because I did lose some time getting ready with my broken wrists. I now feel I'm getting back to full fitness and I'm strong at the end of the races. I love Whitby so I'm really looking forward to that."
Jed Etchells #7 - Big Wheeled KX85
"I'm a bit disappointed I didn't finish higher up this weekend but I'm happier with how I rode. I had some bad luck and a crash that wasn't my fault, I then lost my rear brake in one moto after another rider hit into the side of me. It was good to finish with a third, that felt good and made me realise I'm getting there. I think me and Dylan are doing good because we were both injured in the Arenacross. My bike gets better every time I ride it and we've now got two weeks before the next round at Whitby to get more testing and riding done. I like Whitby and I feel more confident now and little more aggressive with my riding so hopefully I'll be pushing at the front and racing with Dylan for wins."
Lewis Hall #9 - Small Wheeled KX85
"I'm happy to still be leading the championship but I really wanted to win here. I train here quite a lot and always feel good here but I didn't get good starts and had to work hard. I had a few couple of crashes and one race I lost a lot of time when I had to ride off the track to miss a big crash in front of me. I love racing with the big wheel riders though because it gives you someone to chase and makes you quicker. Whitby is a cool track, I won there last year in the 65's so hopefully I can do that again."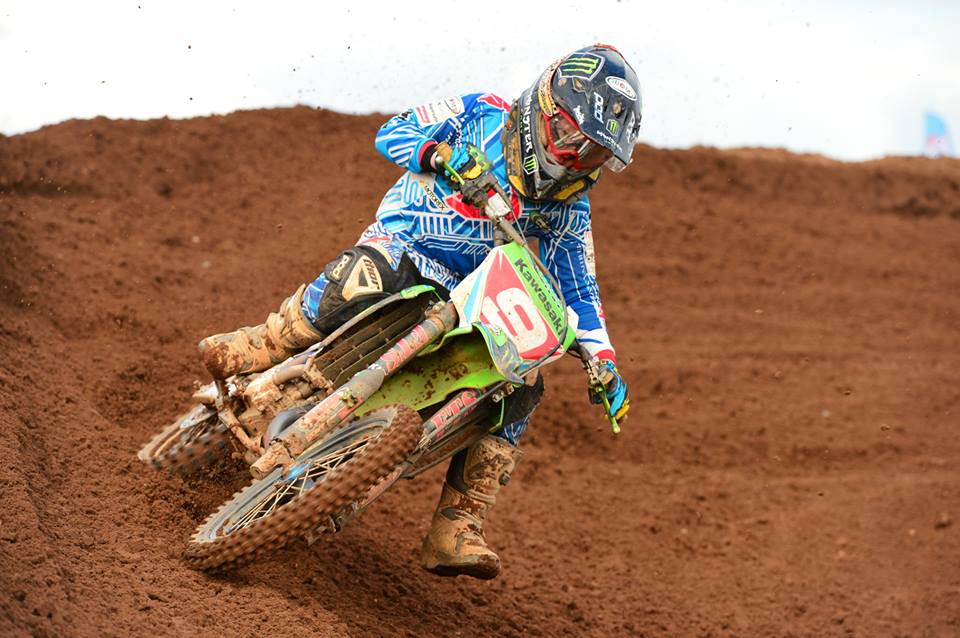 Return to the previous page