Double podium for Team Green
This past bank holiday weekend saw Team Green head to Whitby, North Yorkshire for the third round of the MX Nationals and with good success with two podiums and the championship lead in the Under 16 big wheeled class. 
Coming into the weekend Dylan Woodcock was lying in second in the Under 16 big wheeled class on his KX85 but after a gritty and stylish performance he came away with the series lead after a 3-1-7-1 scorecard. His team mate in the big wheel category, Jed Etchells, also rode with a lot of heart after a couple of crashes that saw him way down the field but he battled on for a joint sixth overall with Pendrich Kawasaki's Lee Perfect to move him into fifth in the series. In the small wheel category Lewis Hall had a disastrous first day of racing with a rear flat tyre in moto one taking him out of the points and then a small crash on a blind jump saw him quickly up on his feet but unable to get back to his bike as the rest of the field came through. He put that frustration behind though and had a solid second days racing to put himself on the box in third overall.  
Jeff Perrett - Team Manager
"It was another good weekend all things considered. The lads all had their ups and downs, probably from just trying too hard, too soon, early in the race so that's something we'll talk about and work on. I was pleased for Dylan to get back to winning, although he didn't win the overall he won his two motos in a controlled way. He had the chance to win three but had a big crash on the second corner of race three but I think that turned out to be his best race. He was half a lap down on the rider in front of him by the time he straightened the bike out and got going and made it all the way up to seventh. That was enough to get him second overall and the championship lead. It's rides like that which can win you a championship. 
"Jed rode well I thought. The results don't show it so much but he's definitely starting to find his feet. Being on Team Green is a big deal to him I think and he's now starting to settle well and that pressure he put on himself is starting to fade a little. He's showing more aggression and speed each time out and ok, it's causing a few mistakes but it's still progress in his development as a racer as far as I'm concerned. He will keep getting better and better and then find that consistency again that made us want him on the team in the first place. He's now up to fifth in the championship and can build on that. 
"Lewis had one of those days on Saturday, just bad luck with the puncture and then the topple off on a small blind jump. He was straight up but he couldn't get back to his bike and it got hit by a couple of riders. Sunday was much better though and he rode consistent and smart. What I liked is he didn't ride beyond his capability or panic trying to make up for his misfortune. He kept it on two wheels and scored some valuable points and put it on the podium again to keep his 100% podium record going. He's been riding a lot of sand in the winter and it showed a little bit. We spoke about it and the need to get out and do more hard pack riding now. He won't hang around on that and will be going practicing on hard pack tomorrow!" 
Dylan Woodcock #60 - Big Wheeled KX85
"I'm pretty happy to be going away with the red plate and leading the championship. It's now up to me to maintain the lead and try and win this thing. I'm pleased with how I rode this weekend and I'm pleased with my starts, although the first moto wasn't great and that cost me the chance of winning in that one. The big crash in the third cost me the overall really but I was happy with getting up to seventh from where I was and then I wanted to prove the point that I was the fastest rider this weekend in the last one and that's what I did. I got the holeshot and paced a good race to pull away from Brett (Pocock). Marcus (Phelps) rode well this weekend and didn't make any mistakes so well done to him for the winning the overall."
Jed Etchells #7 - Big Wheeled KX85
"I liked the track this weekend and felt good but I just made a few mistakes and that was hard to come back from. I feel like I'm getting there with my speed, now I've just got to stop the mistakes and give myself a better chance of racing with Dylan and the others right at the front. I'm fifth in the championship now which is okay considering its my first year in the class on the big wheel bikes. Now I have to really start working on building on that and getting faster and stronger. Jeff said about doing more sprint training so that's what I'm going to do."
Lewis Hall #9 - Small Wheeled KX85
"It's not been such a good weekend for me but I'm happy to be on the podium again and keep that going. I haven't been off the podium at a national yet this year so that's cool. I found it a bit hard to get the track dialled in so I need to practice more hard pack and that's what we're going to do. The next race is at Milton Park and that's hard pack with a load of jumps so I need ready for that the best I can."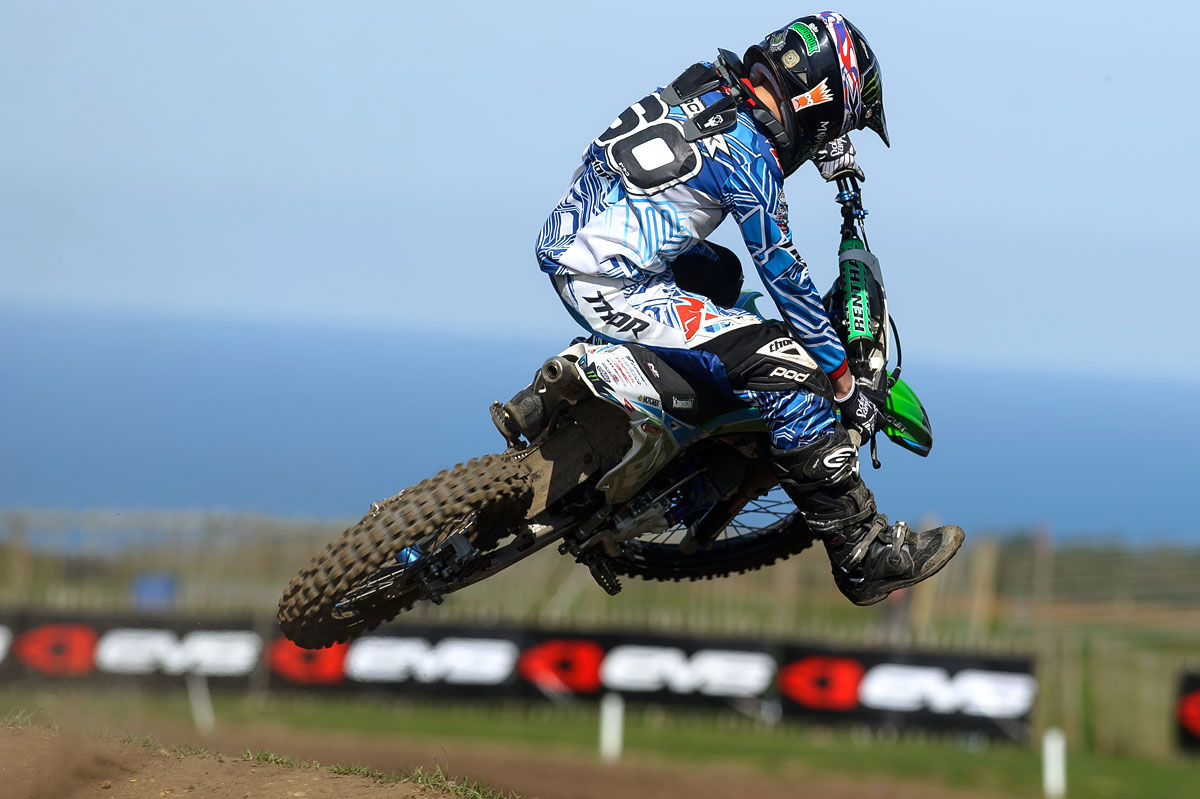 Return to the previous page