Dominant weekend for Team Green at the MX Nationals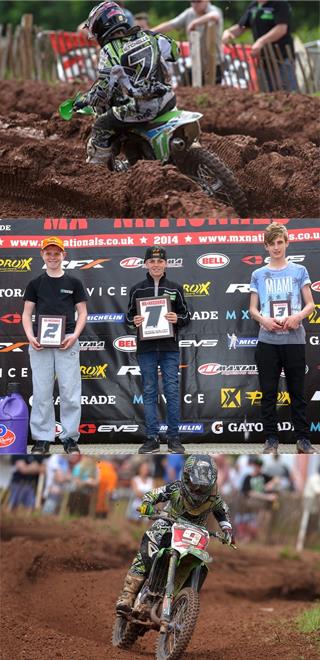 After a three week break from national championship racing Team Green returned to the track at round four of the MX Nationals at Pontrilas, Hereford and it was a very successful weekend.

After heavy rain the race schedule took at hit with the Under 16 combined big wheel and small qualification and race being held back to later in the day. It was also decided that one of their two races be postponed and worked into the following days programme with better weather expected. The good weather did show up on Sunday and the lads got their full four race programme.

Those four races were all won by Team Green Kawasaki's Dylan Woodcock in convincing style. Dylan rode smart, calculated races. When he got a holeshot he controlled the races and when he didn't he worked his way to the front of the pack in a methodical, stylish fashion to stamp his authority on the MX Nationals series.

His big wheeled KX85cc team mate Jed Etchells didn't quite have such a consistent weekend with a few racing incidents with other riders and crashes but he charged hard all weekend and never quit on trying to get forward. Jed eventually came home sixth overall to stay fifth in the championship but closed in on fourth place in doing so.

Lewis Hall's 100% podium record in national motocross competition came to end at Pontrilas. The first two motos cost him a chance to stand on the box once again as he struggled with first lap crashes and getting going again on the extremely deep rutted track. However in typical Lewis style he never let it hold him back and was back in the swing of things for the last two motos picking valuable points to maintain second in the small wheel championship.

Jeff Perrett - Team Manager

"It was tough weekend for all the kids racing in the under 16's, the circuit was brutal after all the rain. When you see pros really struggling to get round the circuit, let alone race you know it's going to be extremely hard for them. So for us to come out of this weekend winning all four races is a good feeling. Dylan was awesome this weekend, simple as that. He rode fast, but more importantly he rode smart and that's what I'm pleased with most. If he's wins this championship I think it's this round where it all fell into place. He now has a 57 point lead which is healthy but we'll take it one race at a time and try and win at each of them, it's too early to start riding too conservatively for championship points. Jed was unlucky whilst also maybe trying too hard. He so desperately wants to do well for himself, for his family and the team that I think he's just putting a little bit of pressure on himself and not relaxing out there on the track like he should. He's a smooth, technical rider and when he's relaxed he rides without thought and it all comes a bit more natural, right now he's trying to force it I think. It's all part of his learning curve and I have no doubt that he'll get to grips with it before the season is over. Lewis was all out action again this weekend. To be fair I knew he'd struggle a little in the conditions. Not making excuses for him, more looking at the reasons but his stature is a problem for him at times. He's short in the leg and also he needs more practice on hard pack and rutty tracks. There's not many track like that where he lives and with school it's a problem getting him to places like that to practice. Hopefully in the summer school holidays we can get out and work on that. That's the best we can do until he has growth spurt! It's a shame his podium run came to an end but I'm sure he'll be very confident going into the Pro Nationals festival at Weston Beach next weekend."

Dylan Woodcock #60 - Big Wheeled KX85

"It's been a good end to a good week really. I went to the GP last weekend and then stayed at Jeff's all week. I went riding with Kristian Whatley in the week and I've been focused and relaxed about the weekend. The track was so gnarly and I knew if I rode smart with a good pace I'd have a chance of winning. I didn't make too many mistakes. I had a crash in the third moto when going for the lead but I didn't panic and knew I'd have a chance to get back into the lead which I did. To win all four and to stretch out my lead like I have is a perfect weekend."

Jed Etchells #7 - Big Wheeled KX85

"I had some bad luck this weekend, at least that's what it feels like. I tried my best and really wanted to get nearer to that podium but it just didn't happen. I've been struggling with my tail bone and been in a lot of pain with that. I tried not to let it effect me but it was hard to ride how I wanted in all the ruts. I've just got to keep working hard and I'm sure it will turn around and I'll be getting up there battling for the podium soon. I know the team is right behind me and we're all working well together. I'm being consistent but just not as high up as I'd like."

Lewis Hall #9 - Small Wheeled KX85

"I crashed too much this weekend and that's why I didn't get on the podium this time. I was a little upset at first but everyone told me not to worry about it and it happens sometime. I'm not used to riding tracks like this so I know I have to practice on tracks like this when I can. I couldn't get out and ride for two weeks because I broke my foot and I was a little worried about that to begin with because the ruts were so big. It was my worse weekend so far but I still finished fourth overall and I'm still second in the championship. I can't wait for the Pro Nationals on the beach at Weston Super Mare next weekend, it's going to reem!"

Return to the previous page