Team Green dominate at the TT!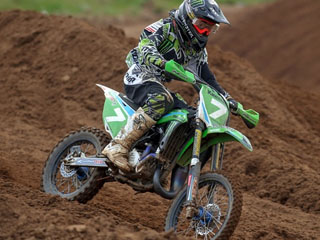 It was a divided Team Green this past weekend. Nobody had fallen out with each other, quite the contrary in fact, all of the team were united in a weekend of winning motocross races on the beach. While Dylan Woodcock and Lewis Hall were at Weston Super Mare for the Pro Nationals Festival, Jed Etchells stayed at home on the Isle of Man to compete in the Douglas Beach Race as part of the Monster Energy backed TT event and it proved worth while with Jed dominating all three races on his KX85 in the youth class in front of a packed out Douglas seafront.

It was a good weekend for Team Green at Weston Super Mare too, with Dylan Woodcock again on the podium in second place as he continues to visibly improve racing the soft stuff. It arguably would've been another podium for Lewis Hall in the small wheeled class too but for a race incident that ripped off his radiator hose.

Jeff Perrett - Team Manager

"This podium momentum continues and it's testament to the riders and the parents that are all focused on winning and improving all the time. We have a good team and I'm proud of that fact. I'm really pleased for Jed to win at the TT beach race in front of so many people, he deserves that for the effort he's been putting in. The transition from the small wheel class to the big wheel and a new team hasn't come as natural to him as it has others but he's kept plugging away and giving 100% all season, so for him to stand on top of a podium and have the taste of victory again can only be a good thing. He'll now come into the British Youth Nationals this weekend with more confidence. Dylan has been riding great of late and although he didn't win at the Pro Nationals Festival I still thought he rode great. Sand riding is his weak point but the improvement I witnessed this weekend was considerable, second overall is a good result and I think he came away feeling he can now start to run for the win in sand. Lewis was awesome to watch again. He loves riding sand and you could tell he was having fun. He didn't get the best of starts as often seems to be the case, I think that's just going to be constant practice until it clicks, but once he got rolling he was rolling fast. He would've been on the podium if he hadn't of hit a fallen riders bike flat out on the blind side of a jump in the second race. It was a huge crash and he was lucky to get up from that one, the bike on the other hand wasn't so fortunate and the radiator hose was damaged. Lewis got up and continued but he lost all the water and the bike seized towards the end of the race. Apart from that, it's been another solid weekend for the team and we're all looking forward to the British Youth Nationals this weekend."

Jed Etchells #7 - Big Wheeled KX85

"It's a good feeling to win again and to do it in front of so many people is really cool. It's always such a crazy week here at home when the TT is on so to be part of that is cool. Hopefully I can go to the British Youth Nationals and get on the podium, that's my target. I'm feeling good."

Dylan Woodcock #60 - Big Wheeled KX85

"I always want to win but I'm happy with second on this occasion. I always try my best and that's what I did and second is good for me because I know I need to get better in the sand and this weekend it felt like I did. It felt like I got better and better with each race. I had a huge crash in the second moto going for the win on the last lap, luckily I didn't hurt myself but I smashed the bike up a bit. In the school holidays I'm going to try and ride sand as much as possible."

Lewis Hall #9 - Small Wheeled KX85

"I wanted to get back on the podium again because last weekend was the first time this year I hadn't been but I had bad luck when I jumped onto another bike and went over the handlebars. It wasn't my fault, I took off and it was just in the middle of the track on the other side of the jump. The other two races I came from the back and it was a lot of fun overtaking. The track was really bumpy and after the rain storm it was really tough just to keep going. I'm looking forward to Culham next week. It gets really rough there and I like that."
Return to the previous page