Woodcock's World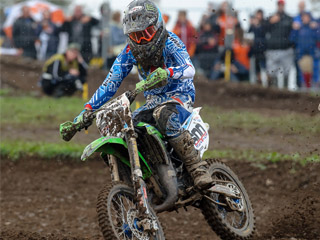 Kawasaki Team Green UK racer Dylan Woodcock headed to Lierneux, Belgium this past weekend with the rest of the Great Britain Youth MX team to compete in the Junior World Motocross championships. It was the second time that Dylan had raced the event in as many years after having his first ever race on a big wheeled KX85 at last years event in the Czech Republic.

This time around though 'Beaker' was far more prepared, riding the bike he has been racing all year with a whole years experience of big wheel action behind him and being physically and mentally stronger Woodcock took the track with much more confidence. It showed as he wound up the wick in qualification to post the fifth quickest time in group A. Going to the startline for the first moto on Sunday the heavens opened but Dylan was still confident. After initially shooting out of the gate on his KX85 he then didn't quite get across the riders up the inside of him and got boxed out on the first turn. Crossing the line 18th on the first lap he methodically worked his way up to seventh by the end of the moto setting the fourth quickest lap time in the process.

If the weather was bad for the first moto it was diabolical for the second, but again Dylan was confident. His hopes of a top five overall finish were all but ended moments later though when he got caught up in a first turn crash with a bunch of other riders. After rounding the second corner in 38th position he started to move through the pack well until he had a tangle with American Team Green racer Garrett Marchbanks and hit the stoney, slippery ground. He remounted and got going only to been taken down again a few laps later. Riding with no goggles after a rock popped out the lens didn't help his cause either but he soldiered on to finish 18th. His combined scores gave him 13th overall in the World. Not where he wanted to be but it was a good, solid effort with some great riding from him.

Jeff Perrett - Team Manager

"Dylan gave it his all and rode really well I thought. He just didn't get that little break of luck that could've seen him in the top five, I think he had the pace to do that. The first moto ride was impressive but he could've been top five in that one for sure. He got an awesome jump out of the gate but didn't turn in and go for the corner quick enough. That was nothing to do with luck, just an error in judgement, but one he'll learn from. He came through the pack with controlled aggression and never looked like making a mistake. The second moto we were looking for just never materialised. He didn't get such a good jump off the line and then paid the price and got caught up on the first turn. Then he had back luck after that and that happens. What I was pleased about is that he never gave up." 

Dylan Woodock - #60

"I'm disappointed with the results and was a bit gutted straight after the racing but now I've thought about it a bit more I'm happy with how I rode. I now know where I'm at with some of the best riders in the world. We haven't been doing the European championship this year so I haven't been able to compare my speed against all the good guys in Europe. My speed was good and now I know where I need to improve, so that's the target going forward. I'll be too old to race the 85cc world championships next year so we'll start working on a plan for when I get on a KXF250 for 2016. Now all I'm going to focus on is trying to win the British Youth Nationals and then be fully prepared for the Monster Cup in October and finish the season as strongly as I can."
Return to the previous page