Flying high…then laying low! 
This past weekend Team Green Kawasaki UK travelled up to Preston, Lancashire for round seven of the inaugural MX Nationals championship, once again full of confidence and hope of winning the Under 16 title. 
The weekend got off to an unfortunate start for all with Saturday's racing programme cancelled due to the paramedics making a double booking and not being able to attend. The implications of that meant that all classes would lose a race out their programme and Sunday's race schedule was changed to accommodate some of the lat racing on Saturday. With one less race it meant that Dylan had to work even harder if he was going to wrap up the Under 16 85cc championship with one round to go. On the flipside, it probably was better for Jed who had one less race to ride with his injured shoulder. As for our small wheeled KX85cc racer, Lewis Hall, well he'd have 10 races in a day if he could…his nickname is 'Animal' for a reason!
When it was all done and dusted Dylan came away still with a healthy championship lead but not the championship wrapped up. Jed had his best overall result of the year coming in third with three gritty and determined rides and Lewis once again got on the box for third in his class to give Team Green yet another podium finish. 
Jeff Perrett - Team Manager
"Well that was another up and down weekend. Dylan could've, should've won the title this weekend but we had another mechanical issue. We've had too many of them towards the end of the year. It might just be bad luck but I'm a believer that over the course of the year you make your own luck and we have to look at what's going wrong and address it. It's only happened to him, we have no issues with the others. I know for 2015 we'll be stronger in that department because we're already working on it, but this is here and now and it's cost Dylan a chance to win the title today, he was ripping. He charged up to second in the first moto and with another lap probably would've won. He started to check out in the second and the bike seized. In the final moto he showed that he's the fastest in the class and stormed it for the win. I feel for him because he's doing everything right. Jed was awesome today and I'm really pleased for him. He's had such a tough debut year on the team but he's on the team through merit and I believe in him. He's had injuries and bad luck this year and it's been really hard for him. Today he showed what he's capable of, and once he's got that shoulder 100% and this whole learning year under his belt I'm sure he'll be strong next year and right up there mixing with Dylan at the front of the field. Lewis was flying as always, but as always was slow out of the gate. I'm actually not too concerned with it anymore because I know it's going to take an off season to address that problem and get him flying out of the gate, not only that he'll have a growth spurt that will help for sure. Before then, our focus is to finish the year as strongly as possible and get straight into preparations for 2015, so I'm really looking forward to that." 
Dylan Woodcock #60 - Big Wheeled KX85
"I don't know what I've got to do to get some luck. It just hasn't come my way this last month or so. I've just got to keep doing what I'm doing and hope my luck changes I guess. I'm feeling good and winning races but then something goes wrong out of my control that costs me the overall win. I really wanted to try and win this championship this weekend because it looks like we're going to miss the last round because I'm going o California two weeks before the Monster Cup to get ready for that. I think I've just got to hope that Brett (Pocock) doesn't claw those points back at the last round. I'd love to win this championship but the Monster Cup is a dream come true for me and more important so that's the priority." 
Jed Etchells #7 - Big Wheeled KX85
"I'm really happy to finally be on the podium this year. I've been trying all year but it's been really difficult and then I got injured and it hasn't helped one bit. I felt more like my old self this weekend and it's given me a lot of confidence. I've got the last round of this to do and then I'm going to get my shoulder fixed properly and start training and getting ready for next year. I've had a year on the team now and I know how it all works and what I've got to do. I want to be on the podium at every round next year and racing for wins." 
Lewis Hall #9 - Small Wheeled KX85
"It was a lot of fun today, the track was awesome and I loved racing it. It's good racing the bigger bikes because they're fast and you have to really try hard to catch them up and overtake them. The track was really bumpy in the last race and I loved it. I stopped doing the big table top though because it got really rutty after the pro race and I didn't want to crash trying it. It was a big jump and I was pleased I was jumping it. I'm getting better at jumps all the time, now I've got to get better at starts too!"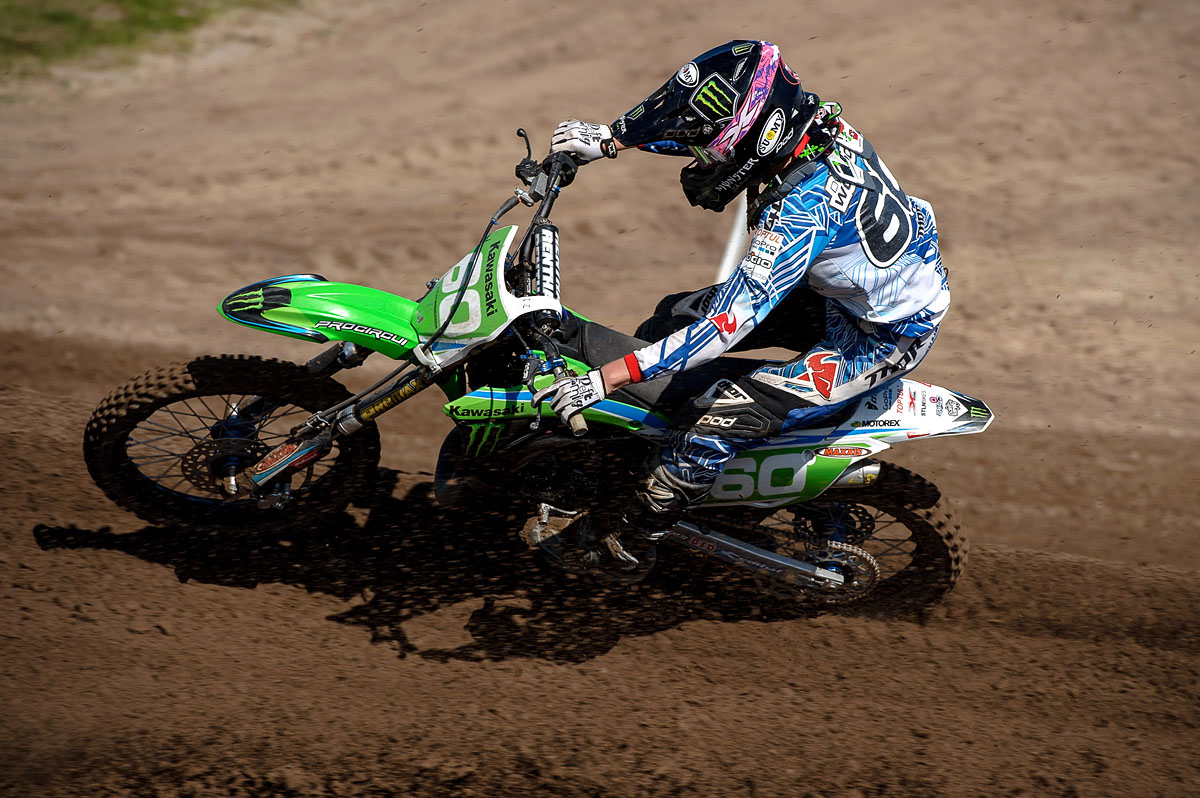 Return to the previous page