Down….but not quite out!
After the bad luck at round one of the UK Arenacross tour the team came into Belfast for rounds two and three looking for a change of fortune…..and we got it…..it got worse! Just getting to Belfast was an ordeal with the ever reliable British weather being typically unreliable as flights and ferries caused all kind of disruption. 
It turned bad for Team Green pretty much from the get go with Lewis Hall taking a big over the handlebars crash in the first practice after setting the fastest time. Lewis wouldn't be the only rider to suffer at the hands of a very technical Belfast circuit that's for sure with a host of pro riders not getting through the weekend unscathed. With Lewis on the way to hospital, it wasn't long before Dylan Woodcock was travelling the same road. Once again Dylan was setting the standard in the big wheeled class. Just like opening round in Manchester where he was half a lap in front in the final only for his radiator hose to get knocked off and taking him out of the race, he was comfortably faster than his opposition and keen to get his championship quest back on track, but it was soon off the rails. A low speed tumble on a sighting lap ended with a clean snap of his collarbone, the same one that he broke at the Monster Cup in the USA back in November. So with two of the three Team Green riders out it all fell on Jed Etchells to uphold the honour of the team and did us proud making his first and team's first podiums of 2015 putting in a solid couple of races to bag second on Friday night and third on Saturday for a double podium. Jed stepped up the plate with a solid performance over the two nights and we're made up for him. 
Jeff Perrett - Team Manager
"Well, there's two ways to go from here, we either dwell on our bad luck and get down about it or we quickly except it and look to the future…..I'll be encouraging us all to do the latter. It's racing, it happens and as gutting as it is, it's just the way it is, worse things happen. I feel bad for Lewis and Dylan more than anything because they've worked so hard to be prepared for this championship and now their chance of winning it has gone. Lewis might be able to come back for next week but I doubt it, he's dislocated his shoulder and shook up his insides pretty bad, we'll see. Dylan is definitely out for the remainder of the series, now we have to get him fixed up properly and I'm sure we'll be ready for the outdoor when it starts. As much as I'm gutted for Lewis and Dylan I'm really pleased for Jed. It was a good performance and those two podiums will definitely give him a shoot in the arm, he can win one of these races, he just needs to believe he can and I think he's starting to think that way. We'll all be behind him as a team at Birmingham next week." 
Jed Etchells #7 - Big Wheeled KX85
"It feels good to finally get on the podium, not just for me but for the team. I'm really happy and now I want to work harder to try and be up there all the time. I felt more confident and more aggressive this week and now I know I can do it I'm really looking forward to next week. I was closing in on the lead on Friday but made a small mistake and slipped off, but at least I know I was catching and maybe could've won it." 
Dylan Woodcock #60 - Big Wheeled KX85
"I quickly forgot about the bad luck in Manchester but this one maybe harder to forget because it hurts, not just the break but the fact I'm out of the series. I trained hard to win it, I showed I had the speed and was quicker than the others but I've had some bad luck. I'm just going to look towards the outdoor now. So I'm going to see a specialist about getting it fixed right, do everything that I'm told to do and come back to show what I can do in the outdoors. We're stronger this year, my bike is so good and apart from my injury I'm fitter too. I'm probably more determined than ever now." 
Lewis Hall #9 - Small Wheeled KX85 
"I hit hard and didn't really know where I was for a while. It was close, I only just clipped the top of a double and it caught me out so quickly, I'm not really sure what happened after that. I'm just shook up really, I haven't broken any ribs but they're sore and all my insides have had a good shake. I'm not sure when I'll be able to ride again, I think I'll have to miss Birmingham and that will put me out of the championship, hopefully I'll be able to ride there though and stay in the championship."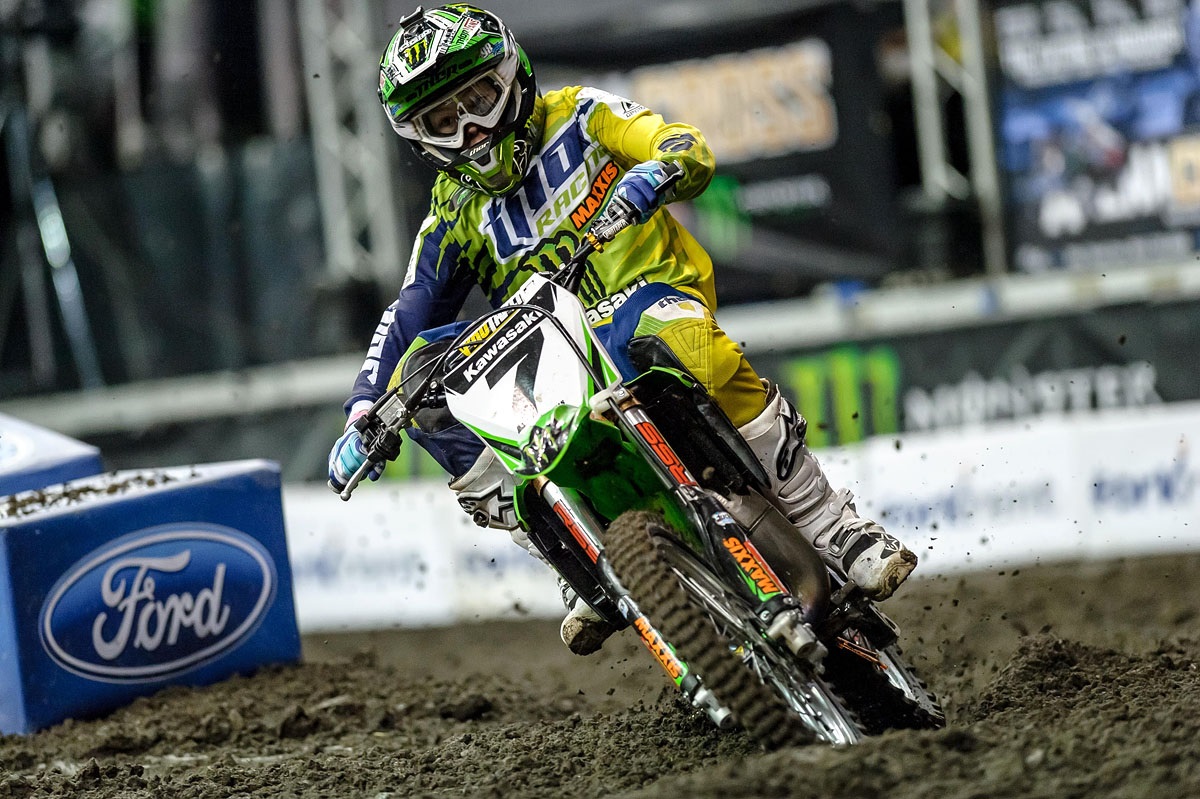 Return to the previous page