Howay the lads!
After riding three rounds as the sole representative for Team Green Jed Etchells was joined by Lewis Hall for round five of the UK Arenacross tour this past weekend at the Metro Radio Arena, Newcastle and the pair of them both bagged podiums.
Jed, who finished third in the big wheeled class last time out in Birmingham, was charged up at Newcastle. After starting outside the top three he worked his way up to second and put some real sustained pressure on series leader Harry Kimber right to the flag but just couldn't get it done, but it was by far his best Arenacross performance to date.
Lewis also rode a blinder with all things considered. Still in some discomfort from his big crash in Belfast with bruised ribs and ligament damage he rode a smart and controlled race on his return to methodically work his way up to second by the drop of the flag to grab his first podium of 2015. Both of the lads were encouraged by Dylan Woodcock who was on hand watching and unfortunately will sit out the remainder of the series while his collarbone heals after surgery ready for the outdoor motocross season ahead.
Jeff Perrett - Team Manager
"I'm about as happy as you can get with second places. The only way they'd be better would be if they were to wrap up a championship. It's been a tough start to our year, but you have to take that on the chin because that's racing sometimes and we've had such a good run since we've brought Team Green back to the track. I was really impressed with Jed tonight. He was a different animal all together. He looked confident, smooth and most importantly like he had more self belief. With a little more aggression I think he could've passed Harry and maybe gone on for the win. It will give him confidence that he caught him up like that. It was the best I've seen him ride since he's been on the team when you put everything into context. Lewis was superb too. He rode smart and calculated and that's a good sign looking forward. Lew is just so aggressive and always wants to twist that throttle as hard as he can, but sometimes that costs him. This time out he used his head and just clicked off the laps and picked riders off where he knew he was faster, which was through the whoops. Second is great comeback ride for him, especially as he's far from 100%. I'm really looking forward to Glasgow to see if they can both build on their performances."
Jed Etchells #7 - Big Wheeled KX85
"That felt good, the best I've felt for a long time. I was riding with a new tuned bike and I really liked it. I feel like I'm starting to get there now. Arenacross doesn't come so natural to me so it's not been as easy to get into a rhythm like racing outdoors, but now it feels like I am a little bit and I feel better each week. I know I've got to be a little more aggressive at times and that's something I'm trying to work on. It felt really good to catch Harry up, that has given me a lot of confidence for Glasgow next week."
Lewis Hall #9 - Small Wheeled KX85
"I hated not being able to race the last few rounds. I was gutted when I got hurt at Belfast and then I came to Birmingham to watch and it was horrible sat in the stands so I really wanted to ride here. I'm still sore and have lumps sticking out of my chest, it's ligaments or something like that around my ribs so I need to go and get them pushed back in by someone! I didn't get a good start but I didn't panic and I didn't want to crash hard trying so I concentrated on trying not to make mistakes. I felt good through the whoops so I passed a lot of people there. It was awesome to get on the podium, hopefully I can get my first win of the year in Glasgow next week."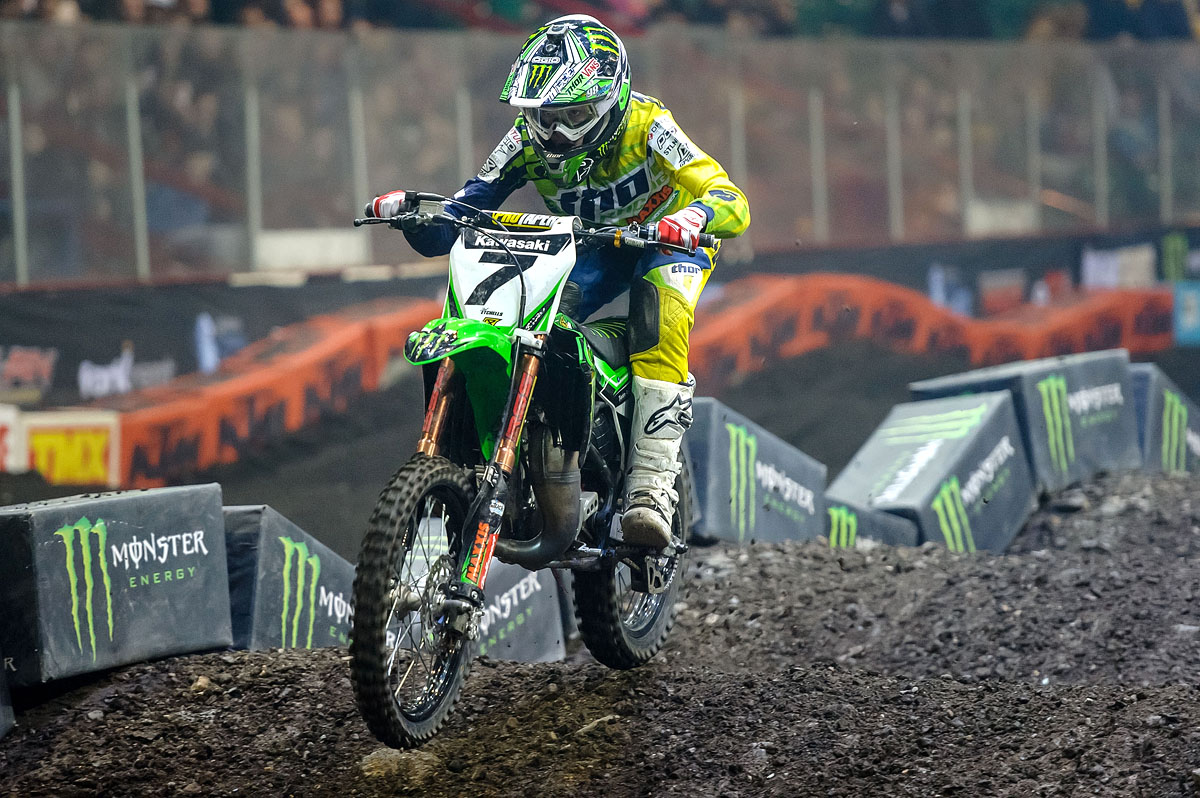 Return to the previous page