Hello Wembley, goodbye Arenacross
The 2015 UK Arenacross tour came to end at the iconic Wembley complex this past weekend and it went out with a bang…literally, with fireworks, firecrackers, pyrotechnics and fire eating dancers! It's certainly been an epic tour. Unfortunately not a championship winning one like it has been before for Team Green but the lads all rode with a lot of heart, skill and flair. 
Jed Etchells finished the championship second in the big wheeled class with a consistent run behind the dominant Harry Kimber. It's a solid result for Jed who is still finding his way with the skills to race indoors. Both Dylan Woodcock and Lewis Hall missed a large chunk of the series through injury yet still finished seventh and eighth respectively and without the injuries would've certainly been in contention to win their classes….but that's racing. Lady Luck also needs to like you! 
Wembley saw the return of Dylan Woodcock after breaking his collarbone at round two in Belfast. If girls really do dig scars then he's onto a winner with the evidence of surgery clear to see. Screwed and plated he came back strong and jumped into the lead of the final with his teammate Jed right alongside and then slowly edged away from Harry Kimber who got by Jed early on. He was looking good to come back with a win but with two laps to go he just tucked the front end and slid out allowing Harry through for another win. It was unfortunate and although he got up and finished second he showed everyone he would've been a main contender for the championship title if it wasn't for the injury. 
Jed rode a smart race, knowing he couldn't win the series but could throw away second he kept it smooth and in shape to get third on the night and second in the championship. In the small wheel class Lewis got one of his better starts of the series and battled hard for the win but in the end just didn't quite have enough for overall series winner Kurt Griffiths and also came in second place on the night. 
Jeff Perrett - Team Manager
"It's been another awesome Arenacross series…even though we didn't win it! The lads gave their all and I think without the injuries we would've had a good shot of winning both the big and small classes. I'm pleased for Jed, a solid second in the series and consistent performances will build his confidence for the outdoors. Arenacross doesn't come so naturally to him but I can see the improvement, the same with Lewis. He's getting better and better and showed that without the shoulder injury he could've been right in the championship battle. As for Dylan, well I think it's fair to say that a lot of people expected him to win the series, and I think he probably would've if it wasn't for the injury, but it happened and credit to Harry Kimber for doing a great job on winning the title. We picked up injuries in the Arenacross, but thankfully we aren't carrying them into the outdoor season. We've been working hard on the bikes and we have a really good set up for outdoors so now we can focus fully on winning outdoor titles. I'm confident we can do that and so are the lads. 
Jed Etchells #7 - Big Wheeled KX85
"I just wanted to make sure I got second in the series tonight. I got a good start, a 1-2 with Dylan which was cool, Harry came by and then I just settled into the race and tried not to crash. I got another podium finish and it was a good way to end the series. I'm more comfortable racing outdoors so now I'm really looking forward to that." 
Dylan Woodcock #60 - Big Wheeled KX85
"I wasn't going to race Wembley and sit it out and just get ready for the outdoors, but my operation went well and the healing was good so once I got the all clear from the doctor I decided I'd race because I've missed it and wanted to show people I could've raced for the championship win. I got another holeshot so that's good and shows I've got better at my starts and we're getting the bike better all the time. It felt good to be back and out front but I just lost the front end with a couple of laps to go and that let Harry through for the win. It would've been awesome to come back with a win but I'm just happy to be back racing. I'm really looking forward to the outdoor now. We've got a really good set up with the bike and I'm more confident than ever." 
Lewis Hall #9 - Small Wheeled KX85
"I really wanted to win a round of Arenacross and I tried hard but Kurt was riding really well tonight. It's been awesome doing the Arenacross, I was gutted that I missed some rounds but I've learned a lot and now know what I need to do to be ready for next year. I'm really looking forward to the outdoor races to start, my race bike will be ready soon and my starts are getting better so I'm ready to fight for those outdoor titles."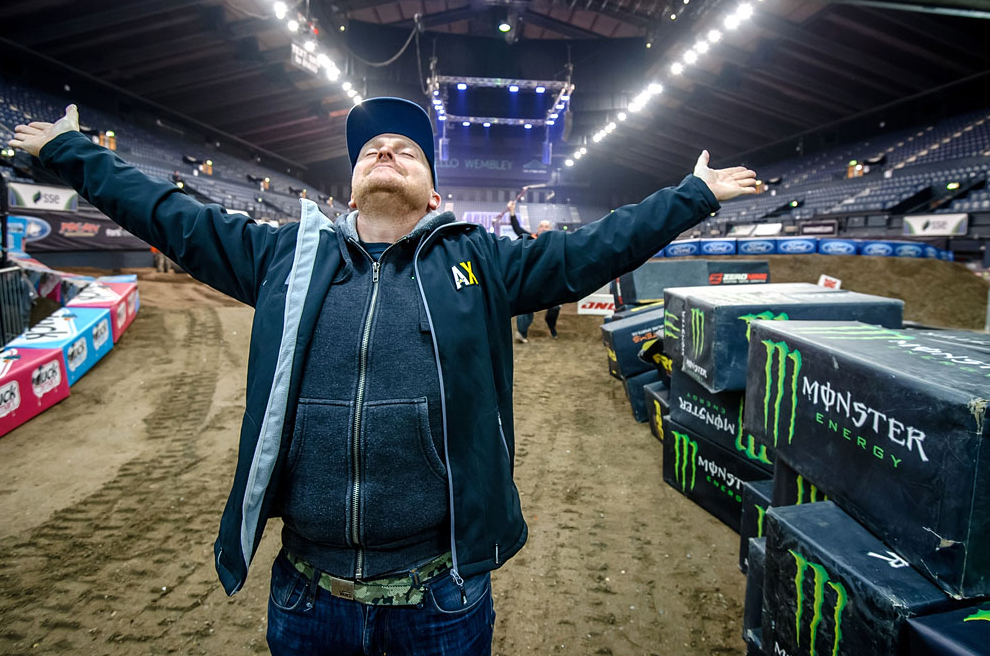 Return to the previous page