Team Green riders cruise to victory at Preston Docks
After a solid start to 2015 at the Arenacross series, all four UK Kawasaki Team Green riders rode together for the first time on track at the opening MX Nationals event held at Preston Docks.
Building on the indoor arena experience gained so far, the first outdoor event witnessed a raft of success across the board with Joel Rizzi and Lewis Hall competing in the small wheel 85 class and Dylan Woodcock and Jed Etchells in the big wheel class.
Joel in particular has only stepped up from the 65cc class this year and had a dream first National outing navigating his KX85 to three wins from four starts and in so doing taking the overall win! Backing him up in style was Lewis, who made it seem like plain sailing finishing on the podium in all four races and grabbing second overall making it a Team Green 1-2 in the hotly contested small wheel class.
Only recently returning from injury, Dylan declared that he was probably only 70% fit, but nevertheless rode a consistent batch of races to take second overall on the day with Jed Etchells riding strongly just behind him to take third on the day.
Racing Coordinator for Kawasaki in the UK, Ross Burridge commented - "I couldn't have asked for a better start to the outdoor season! Joel in particular has really impressed. Being so dominant on a bike that he has only be riding for a few months is an outstanding achievement and testament to how hard he has been training over the winter.
Jeff Perrett our Team Green mentor has been working hard with all four riders, and the results are there for all to see. Four podiums at the first MX Nationals event – roll on round two!"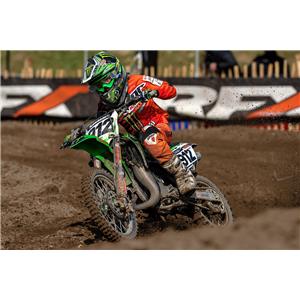 Return to the previous page