And the beat goes on…..
It was another winning weekend for Team Green Kawasaki, this time at the opening round of the Thor British Youth Nationals at the beautiful setting of Haverigg on the south coast of the Lake District, Cumbria.
The team were fully of confidence and eager to keep the momentum going following their success the previous week at the MX Nationals where they took a double, winning both the big and small wheeled 85cc classes, and that's exactly what they did. Dylan Woodcock took the overall win in the big wheels and Lewis Hall romped it in the small wheel class, just like the week before.
The Thor British Youth Nationals is the premier youth series in UK motocross and after one round Team Green are winning both 85cc classes, in fact all four team riders won a race at the weekend, a pretty cool achievement for everyone involved.
Jeff Perrett - Team Manager
"I'm really pleased for the lads and proud of what they, and we have achieved as a team. Of course it's really early days as far as 2015 is concerned, there's a lot of racing to go and anything can happen so I'll be reminding everyone of that and for us to remain focused and not let any over confidence or complacency creep in. We're current leading every national championship class we've entered and that just highlights the work the whole team have been putting in. To have all four riders win a race this weekend is awesome. They're all hungry for success and push each other along but there's a great spirit and bond in the team, for me that's as rewarding as much as anything really.
Dylan rode really smart this weekend. He won two out of the six races and maybe could've pushed on for more, but also maybe could've made a mistake doing so, so to back that up with four seconds and come away with a 21 point lead is brilliant. He really used his head this weekend. Jed was awesome too and if not for a nipped piston ring in the last moto he would've taken second for a Team Green 1-2. He took his fist national race win for the team and he totally deserved too, he topped qualifying and was fast and smooth all weekend. He's just needed that little bit of self belief and I think he's starting to get that now.
Lewis lived up to his nickname again this weekend…he is an animal! He was consistently around 3 seconds quicker than anyone and I think he still had more in the tank. In fact I know he did, because we spoke about it. He rode smart too and used his head and didn't rush like he sometimes does to get to the front, he picked riders off and apart from the first moto where he tried too hard and crashed a couple of times he was the dominant rider of the weekend. Joel rode awesome too, more than his sixth place overall suggests. He had one bad race where he took a big hit and came home 30th but other than that he was superb. I think he was a little too worked up on the first day and when he messed up the start and came from last to fifth he then tried too hard in the next two races and make little mistakes that cost him. On Sunday he turned it around mentally, we adjusted the suspension a little bit and he rode much more relaxed. I'm pleased for him that he won a moto just ahead of Lewis because that will give him confidence going forward.
I think now the first round of all the championship are out of the way the lads will all settle down a bit and find a natural rhythm. The Thor British Nationals are going to be a hard series to win due to the points scoring system, there's not that obvious advantage and big points swing if you win races anymore so consistency is really going to play it's part, there's more pressure on the mechanics now too, but it's the same for everyone. We just have to stay on top of our game and remain focused."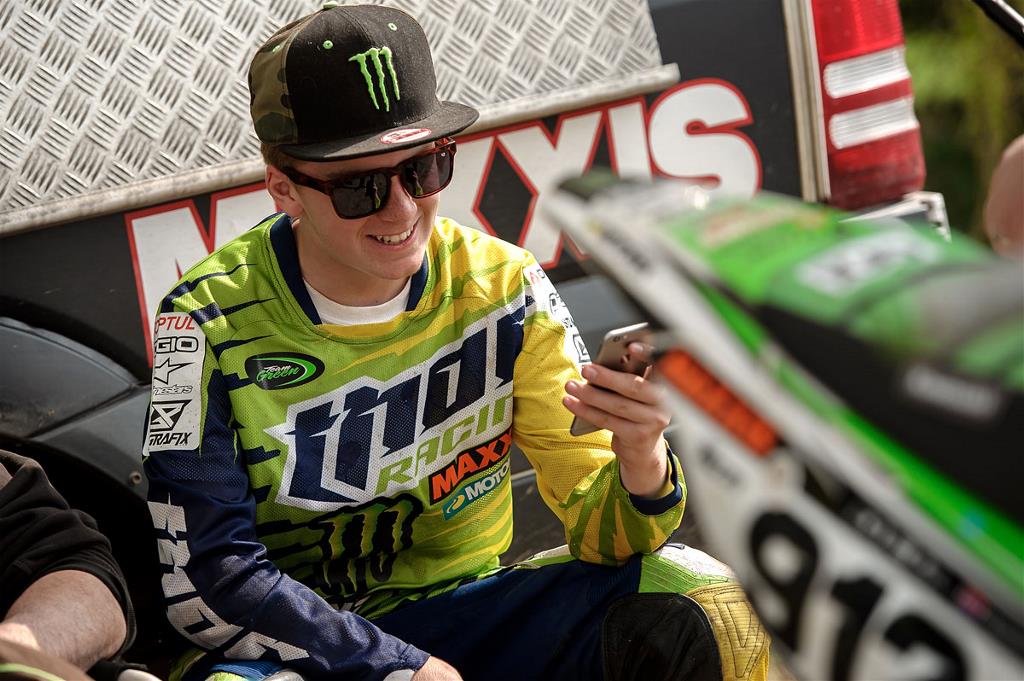 Return to the previous page