Bank Holiday Kawasaki success
The May bank holiday weekend played host to a variety of weather conditions across Britain along with some spectacular racing in both the BSB Championship and pure roads racing across the water in Ireland.
Oulton Park in Cheshire witnessed the third round of the 2015 British Superbike Championship and there were reasons for Kawasaki fans of two and three wheel racing to be optimistic in the majority of classes from 600cc all the way to the blue ribbon Superbike class.
The 2.69 mile circuit with its undulations and challenging curves is perennial season high point and the races on 4 May were no exception.
Stock 600 contender, Mason Law, set a furious pace in qualifying and back this up with a boisterous win in the race along with a lap record just to set his place atop the championship in stone. Not even a mid-week mountain bike tumble could deter the 20 year old from Benfleet whose career has been guided by former WSS Champion, Andrew Pitt.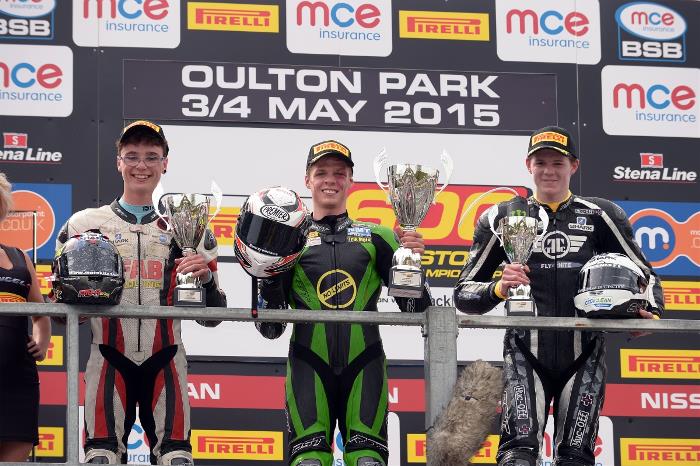 The Supersport class also saw Kawasaki riders pushing for success at Oulton. The ever-present Glenn Irwin produced the goods in race one by transforming a third place qualification into a second step on the podium. Race two was not as solid for the Gearlink Kawasaki rider who placed fourth which sees him now occupy fourth place in the championship just four points shy of third spot.
Three wheel fans were treated to a thrilling sidecar race which was eventually won by a highly competitive Tim Reeves and passenger Gregory Cluze on their LCR Kawasaki outfit.
For Ninja ZX-10R fans, the racing across the weekend had Stock, Roads and Superbike racing to follow and Kawasaki success in each.
In Ireland, Kawasaki road race legend, Ryan Farquhar, showed his class with a 0.4 second Superbike win over Michael Dunlop at the Tandragee road races on his SGS International/KMR Kawasaki, a great sign of possible success at the upcoming NW200 and Isle of Man TT events.
At Oulton, the stock 1000 class saw Josh Elliot as best Kawasaki qualifier in fourth place going into Monday's race. Upping his pace considerably when it counted, the Morello Racing rider posted an impressive second place splitting Seeley and Kennaugh and was just 0.208 seconds behind the man on top of the podium.
For Superbike fans the tension was palpable as a rain affected qualifying made way for sunshine on the Monday and the two races that would be the last for some time as BSB takes a summer sabbatical.
Qualification was not an easy affair but Hawick rider, Stuart Easton made best of it to post third place and lay down a marker for the actual races.
Race one looked to be going well for Kawasaki riders and Shane Byrne made the best of the conditions to join Bridewell and Brookes on the podium in third place with Easton in fourth. Ellison placed a useful points scoring sixth after being pushed wide on the first turn while Howie Mainwaring Smart and Richard Cooper rounded out the top ten; Smart returning to the form he knows he is capable of.
For race two the tension was high and it showed with hard and fast racing, no quarter asked or given. That exuberance boiled over in the later stages as Byrne – who had shadowed leader Kiyonari lap after lap – paid the price for his proximity as he was scooped up by the Japanese rider who misjudged his braking and crashed out of a guaranteed podium place.
Making best of the situation, Easton powered across the line on his Paul Bird Motorsport Ninja ZX-10R for his first Superbike victory in five years. The canny Ellison followed just 0.161 seconds adrift with Howie Mainwaring Smart improving to sixth place on the Quattro Plant machine, Cooper on his TAG racing Ninja made seventh place his own.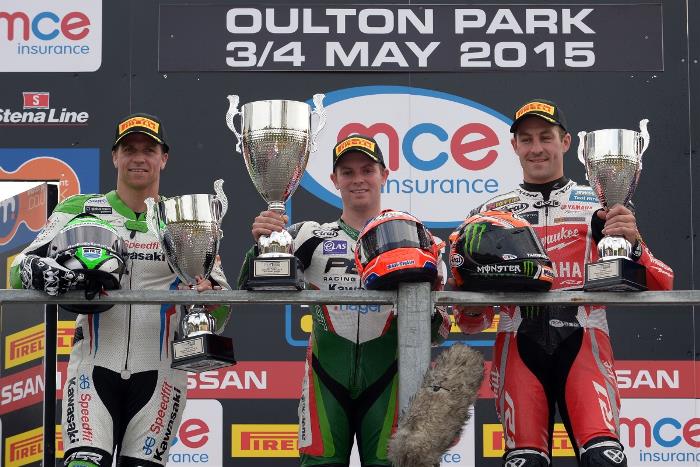 Never to be underestimated, "Old but Gold" Chris Walker – who has just launched his own Kawasaki shop in Grantham, Lincs - increased his points tally with a solid ninth place on the Be Wiser Kawasaki.
"What a great bank holiday for racing fans whether they like pure road racing, sidecars, stock racing or top flight superbike action", commented Kawasaki's Senior Racing Coordinator, Ross Burridge.
"There is no substitute for hours or years in the saddle and this was demonstrated by the likes of Easton, Ellison, Byrne, Farquhar, Walker and Reeves. But it was not all about established stars, the up-comers like Mason Law, Josh Elliot and Richard Cooper show that racing in the UK is in a healthy state and that Kawasaki in particular is being highly successful on track.
Return to the previous page