British Youth Nationals #2 Race Report
The team came in to the second round of the Thor British Youth Nationals full of confidence after a solid start to the championship at Haverigg for round one where each rider on the team took at least one race win. Cusses Gorse was the venue for round two and it was a complete contrast to the rough sand circuit of round one, with hard pack dirt and plenty of technical jumps. 
Dylan Woodcock came into Cusses with the points lead and left with it, only dropping one point. It would've been another overall win for Woodcock if not for a faulty spark plug. After dominating day one with three straight wins bad luck struck at the start of the opening moto of day two, but he still nursed the bike round to get enough points to claim second overall. It was another huge slice of bad luck for Jed Etchells at round two, with two punctures and a derailed chain caused by a small stone. The non score ride pushed him way down in the overall results and now back to eight in the championship even though he showed the consistent speed of top two or three results. 
There wasn't much luck for small wheeled championship leader Lewis Hall either, as he came away from the Cusses now back in fifth in the championship after tweaking his knee and wrist in the second race after winning the first. Being the charger that he his Lewis toughed out a couple of third place finishes after that, but he got disqualified for outside assistance after a crash in race four and that cost his chances of keeping the championship lead badly. It was also tough weekend for Joel Rizzi as he really suffered with chronic hay fever and asthma and struggled to breath throughout all the races. The best result he could muster was a third. 
Jeff Perrett - Team Manager
"Well it had to happen at some point didn't it? We've started the season so well and have been dominant but a lot of bad luck hit all four riders in one weekend. I feel for Jed in particular because he's really stepped it up in speed and confidence. Dylan did an awesome job in getting the bike home to salvage a second overall and maintain a good championship lead, just a shame it couldn't have been another overall win. Lewis has been so strong and fast this year and it's a real shame he's picked up and injury but he's so tough though and still managed to get points. The disqualification is a hard hit to take. I know it's the same rule for everyone but I still think for youth motocross it's a rule that needs to be looked at. When a kid crashes hard I think they need assistance in getting back on their feet and back out on track, it maintains their confidence, but that's just my opinion, I don't make the rules. As for Joel, the kid just suffered badly with his hay fever. He'll bounce back of that I'm 100% confident, he's such a talent and that's why we're all so happy to have him on our team. It's it's first year on an 85 and a learning year, but his work ethic and skill will see him winning more races before the end of the year. It certainly wasn't the best weekend for us but we're still leading the big wheel class with Dylan and with the speed that Jed, Lewis and Joel are all riding I'm confident they'll be more wins next time out and we can start clawing back those points. I said before this championship is going to need a hell of lot of luck to win, more than any other because of the points structure, if you have one bad race it's so difficult to get them back. We've had our bad luck, we've just got to keep going for race wins, picking up points and hope some of the others have a little bit of bad luck too." 
Dylan Woodcock #60 - Big Wheeled KX85
"It was all going well until that spark plug messed up. It was frustrating not to win because of that but I only lost a point in the championship and still have the lead. I've just got to keep trying to be smart and pick up points and not do anything stupid and hopefully not get any bad luck because if you have one DNF or bad race it's so hard to get those points back when there's only one point difference between each place you finish."
Jed Etchells #7 - Big Wheeled KX85
"I'm not getting any luck at all at the moment. My speed is good and I feel as good as I ever have on the bike. It's going to be hard to get back into the top three from where I am now but I've just got to keep doing what I'm doing and hope for my luck to change and a few others have the bad luck instead." 
Lewis Hall #9 - Small Wheeled KX85
"I've really hurt my knee and it made it really tough after that. I won the first race and felt good and on for another overall win but then I jarred my knee on the ground and struggled after that. I've lost a load of points because of that and being disqualified after I got help to get me get back up and the bike straighten up. There's still a long way to go though and I've got the speed to win, so hopefully I'll claw back a load more points at the next round." 
Joel Rizzi #912 - Small Wheeled KX85
"I'm really frustrated because I just couldn't ride how I wanted to. I was really struggling to breathe and had to slow right down in a couple of races because I thought I was going to have an asthma attack. It was just a bad weekend that I want to forget and I'm already looking forward to my next race."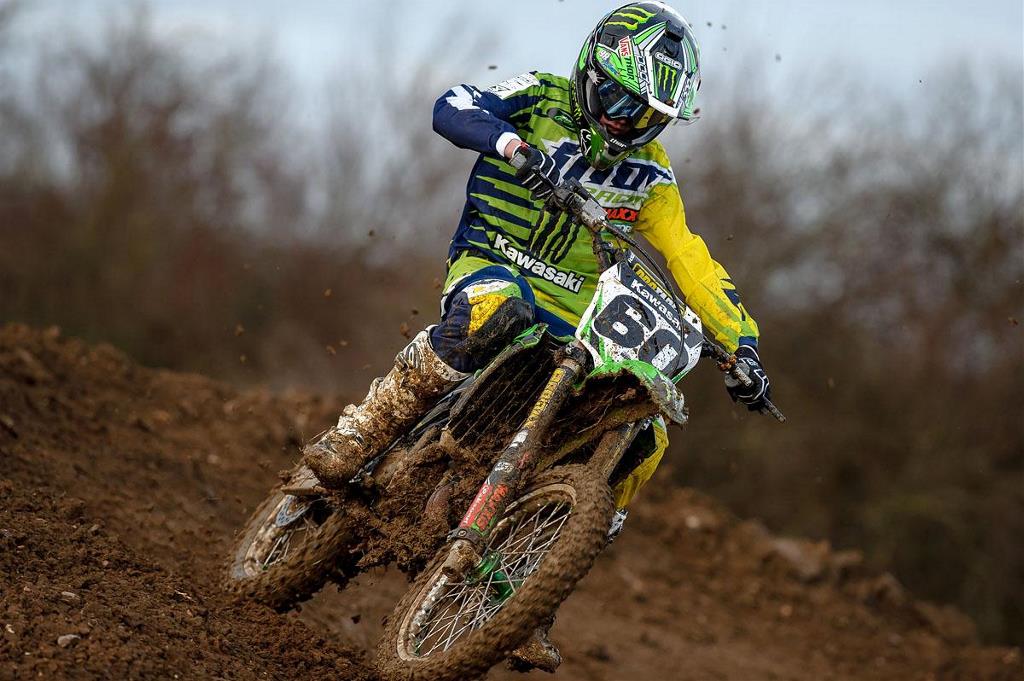 Return to the previous page