Wins at Weston! 

After making good use of a half term off school the Team Green youth team got down to business at the 2015 Pro Nationals festival, (incorporating the MX Nationals championship) on the beach at Weston-Super-Mare, Somerset this past weekend with yet more fantastic results. 
The lads were buzzing after a fun week, all hanging out together and even getting in a training day with Max Anstie at his awesome practice track and it showed when they all got to the beach to play in the sand! Lewis Hall, who had to sit out riding with Max and the lads to rest his broken thumb, showed it hadn't slowed him down as he took the overall win in the small wheeled 85cc class only being beaten by his teammate Joel Rizzi; making it another total domination of race wins in the small wheeled class. Unfortunately for Joel he took a heavy crash in the third race and whacked his sciatic nerve and had to go to hospital. 
In the big wheeled class Jed Etchells put his KX85 on the box in second place with some awesome riding, taking a race win, two seconds and a fifth. Teammate Dylan Woodcock just missed out on the top three coming home fourth after having to work hard from some bad starts and a couple of crashes, but he still leads the MX Nationals championships. 
Jeff Perrett - Team Manager
"We've had a good week. We arranged for them to all stay down at my house and it's been a lot of fun leading into the event. The track was so brutal, I mean really, really tough just to get round so every rider deserves credit for that alone. Even though he's still nursing that broken thumb I knew Lewis would be strong…it's just right up his street, sandy and ridiculously rough. He just got better as the weekend went on and has increased his lead in the MX Nationals championship. Joel was riding so good too and was just unlucky to crash and hurt his back. It was worrying at first because he couldn't feel his legs, but it turns out he gave his sciatic nerve and good old shock, he'll be ready for his next race okay. Jed was riding fantastic and I'm really pleased he won a race and got it on the box after his recent bad luck, hopefully he's turned the corner there. Dylan struggled this weekend. His starts weren't great and he fought the bike and track all weekend really. He's still leading the MX Nationals so that's cool, but there's work to do with his sand riding and we'll continue to look at that. Overall it was another solid weekend and we're going into the next round of the Thor British Youth nationals in good shape." 
Lewis Hall #9 - Small Wheel KX85
"I loved it.. It was so much fun. The track got so rough and it was really soft so you just had to try and keep it pinned everywhere just to go in a straight line! My thumb is aching a bit now but I didn't make it any worse so I'm looking forward to the next British Youth National race so I can try and gain some points back after my bad luck last time." 
Joel Rizzi #912 - Small Wheel KX85
"It was all going good until I crashed and hurt my back and leg. I was scared because I couldn't feel my legs for a while but they've told me I'll be fine and I've just damaged some nerves but my feeling will be back to normal soon….I hope so, it's weird."
Jed Etchells #7 - Big Wheel KX85
"I felt really good on the bike this weekend. I feel better each time out. I learned a lot training with Max (Anstie) and tried to put that into the weekend and it definitely helped. I think I had the speed to win the overall but had one or two little mistakes that cost me more race wins. It's given me more confidence and I'm ready for Pontrilas next time out. Hopefully this is the turn of the my bad luck." 
Dylan Woodcock #60 - Big Wheel KX85
"Not my best weekend that's for sure. I got bad starts and then didn't flow and crashed a few times trying to push through. I rode a bit wild sometimes when I shouldn't of done and just didn't get it right really. I'll put it down as a bad weekend and try and learn from it for next time. I've still got the MX Nationals championship lead and that's the main thing really. I've got the next Thor British Youth Nationals coming up and I'm leading that too so I'm already thinking about that. I want to leave for the Monster Mammoth Mountain race in America in a few weeks with a win and bigger lead in that if I can."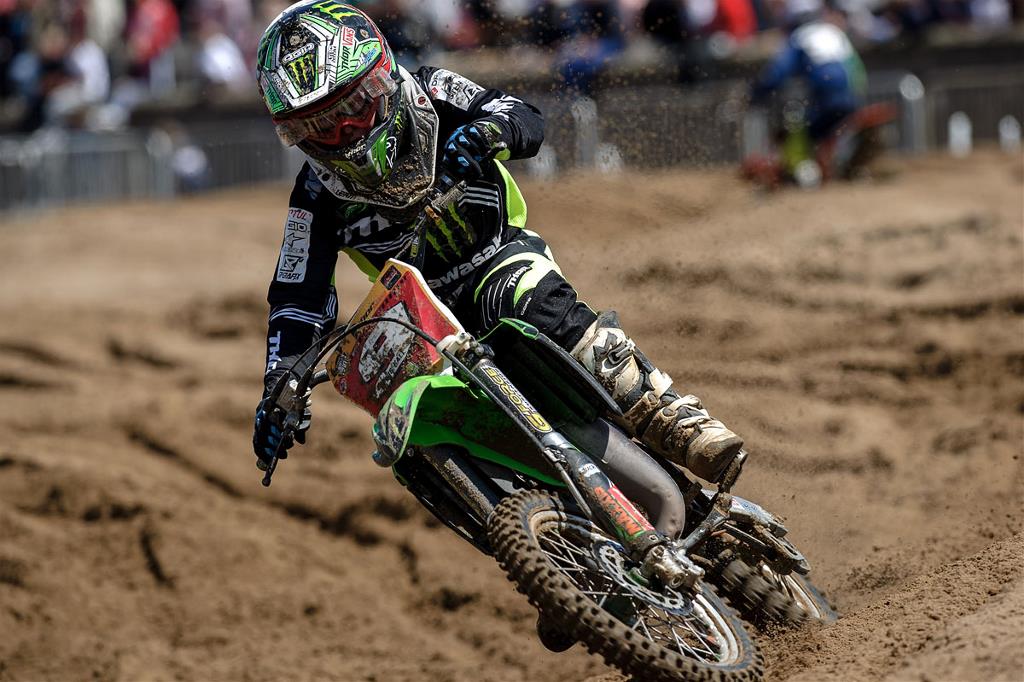 Return to the previous page