Kawasaki secure sensational Superstock TT "comeback"  win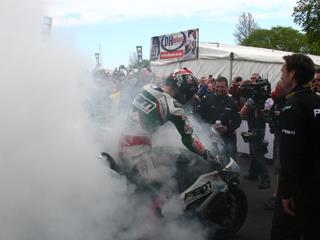 Bingley rider, Ian Hutchinson has made a dream start to his TT race week taking an excellent victory in Tuesday's Superstock race on his Paul Bird Motorsport Ninja ZX-10R
After a career threatening injury sustained in 2010 at Silverstone, "Hutchy" has endured a long road to recovery both mentally and in terms of fitness. The combination of grit, determination and the excellently prepared PBM Ninja ZX-10R made for a fantastic day for the popular Yorkshire rider who had won an impressive tally of 8 TT races before his injury.
The Paul Bird Motorsport team devote as much effort to pure roads racing and the TT as they exert in the British Superbike Championship. With previous wins on the historic 37 ¾ mile mountain circuit, their hunger for success remains undiminished and the choice to run Hutchinson is a tribute to their skill in rider selection.
Using a machine that was previously a Kawasaki Motors UK press fleet machine, the Ninja ZX-10R in stock trim is a fantastic machine and very few changes were made to arrive at a TT winning machine according to team chief for the TT assault, Stuart Bland.
"It's overwhelmingly stock; in fact we did not take the majority of the engine apart. These ZX-10R's actually seem to get faster as miles pile on so we were happy to base the TT bike on a machine that had already been used hard. Paul Bird was here to see the win and you could tell he was as delighted as Hutchy to see us on top of the podium."
Ross Burridge, the racing coordinator for Kawasaki in the UK concluded: "I am over the moon for Hutchy and the team. They have put a huge amount of effort into the IOM TT this year and to fit this two week programme into an already packed British Superbike schedule is no easy task.
They have worked tirelessly and been rewarded with a memorable result! I wish them the best of luck for their remaining outing in the Senior TT taking place on Friday."
Return to the previous page