Kawasaki World Superbike stars tackle famous TT course
Tom Sykes and Jonathan Rea took time out from their assault on the World Superbike Championship during the Isle of Man TT festival to tackle the world famous TT course as part of a Monster Energy WSBK parade lap.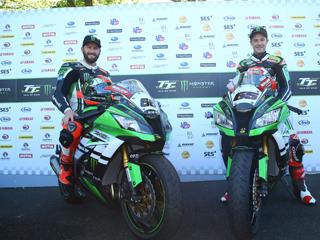 Each equipped with a road going replica of their respective Ninja ZX-10R racing machines, the two KRT riders had a unique chance to test themselves against the most famous pure road circuit on the planet.

Along with two further WSBK stars, the pack of riders assembled on the start line ready to be despatched down the famous Bray Hill with the advantage of TT course specialist Richard "Milky" Quayle who would lead the way and see the riders round over 200 corners and multiple changes of direction and gradient.

Far from a gentle ride and relaxing wave to the thousands of eager fans, the pace was more of a gallop than a canter as the ZX-10R machines that had been liveried by the Kawasaki World Superbike team negotiated the roads towards Ramsey and then up over the famous mountain section.

With each rider new to the complexities of the course, the taste of the TT experience was enough for both to return to the Grandstand paddock full of enthusiasm for the revered ribbon of tarmac and renewed respect for the hundreds of riders that chose to compete in the TT races.

"That were something else", enthused Tom Sykes. "It wasn't long before we were in the groove and I had to reset my brain as we hurtled through villages at over 170 miles an hour. It's amazing and I loved every minute of it."

For his team mate in KRT, Jonathan Rea, the experience was heightened by the fact that he lives on the Island and cycles round sections of the course part of his training regime.

"I've not really had any time to experience the TT course on a motorbike let alone on closed roads. Wow, that was amazing. I had to really concentrate but what a thrill. The ZX-10R was ideal as  a machine for me to get a true feeling for why this place is so addictive for the riders that come back year after year"

The two unique signed Ninja machines will next make an appearance at the World of Kawasaki celebration held at Rockingham Speedway in Northants on 28 June where they will be auctioned as part of the all-day event.

Return to the previous page