Kawasaki BSB Race Report: Round 7 – Thruxton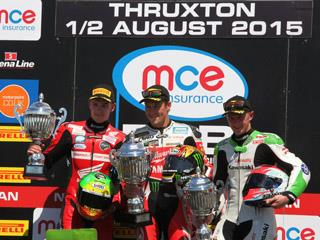 It was a weekend of mixed luck for Kawasaki's track Team Green at Thruxton – whilst GBMoto's James Ellison suffered a broken wrist, his team-mate James Westmoreland scored his maiden BSB podium in race one, as did Quattro Plant Kawasaki rider, Luke Mossey, in race two.
In race one JG Speedfit Kawasaki rider, James Westmoreland powered through to 3rd place – and got his first ever BSB podium – aboard his ZX-10R. PBM Kawasaki's Shane 'Shakey' Byrne made his way up to 4th – after starting back in 17th - by the chequered flag and Howie Mainwaring crossed the line 5th. The top ten was dominated by green-machines as Luke Mossey and Jack Kennedy took 6th and 7th respectively. Westy's team-mate – and holder of third place in the Championship – James Ellison, unfortunately crashed out in race one on oil and suffered a broken left wrist.
It was another fantastic result for Kawasaki machinery in race two with Shakey taking 2nd place on the podium and Quattro Plant Bournemouth Kawasaki rider, Luke Mossey, taking his first ever BSB podium after crossing the line in 3rd place. Howie Mainwaring finished in 7th.
Kawasaki riders currently occupy 2nd place to 4th place in the overall BSB rider standings with Shakey in 2nd, Ellison in 3rd and Easton in 4th. 
In the Superstock 1000 class, Northern Irish racer Josh Elliott finished in 2nd place and is still top of the table by 17 points.
In the Junior Superstock class, it was a Kawasaki podium with Mason Law taking the top step, Leicestershire-lad, Tarran Mackenzie in 2nd place and Wayne Ryan in 3rd. Law is leading the championship chase with 154 points with Tarran in 3rd with 127.
Ross Burridge, Senior Racing and Marketing Co-ordinator, said: "It's been another great weekend for riders of the ZX machines with all the championships having a strong representation of riders aboard the green machines. A massive congratulations to Luke and James for getting their first BSB podiums – may this be the start of many. Unfortunately though it's been a bad weekend for James Ellison suffering a broken wrist in a nasty looking crash in race one – we wish him all the best for a speedy recovery and hope to see him back soon to keep his place in the Showdown. We head to Cadwell Park for the next round with it all to
race for."
The next round takes place at Cadwell Park on August 21 – 23. For more information or to book your tickets, visit: www.britishsuperbike.com
Return to the previous page