Hall crowned Michelin MX Nationals champ
It's been a pretty dominant display by Lewis Hall in the 2017 Michelin MX Nationals MXY2 class on his way to the title. Lewis took 22 moto wins out of a possible 24 with a second place and a DNF blotting his copybook for a perfect season. Fair to say the 15 year old has been the rider of the season in the series. He wrapped up the title in style at the awesome new Crookwood circuit just out of Devizes again taking the overall victory on his KX250F.
It was also a good end to the series for Bobby Bruce as he finished second overall on the day to finish his first year in the big wheeled class on his KX85 third in the championship. It was another tough day for Dylan Woodcock however in the super tough pro MX2 class. The pro rookie was having a good day until a small slip off damaged his front brake disc and he had to retire from moto one. In the second moto he was starting to come through the field from a poor start but the race was cut short and red flagged after a nasty fall for Jordan Eccles.

Jeff Perrett - Team Manager

"It's been another weekend with plenty of positives to keep building on. Lewis has been exceptional this year. Yet again, he just methodically went about his business and only a small lapse in concentration stopped him winning all four motos again. He was annoyed with himself about that, but he put that behind him and came out in the last two motos to show he's the worthy champion. We'll all enjoy and savour the championship win but we won't rest on it at all. We're already planning and preparing for his pro debut next year and we know there's plenty of hard work to be done, more than ever in fact.

"Bobby rode excellent again this week. We're definitely going in the right direction as we prepare for his second year in the big wheeled class and the European and World championships for 2018. I've constantly reminding him this is his first year in the class racing stronger kids with more experience and he's done awesome. For 2018 we're going to have a stronger bike in all departments after a lot of recent development and he knows what he has to do for himself with fitness and preparation. I'm really excited about our KX85 programme for 2018 and beyond, we'll have a very good bike, with some trick new components and with a very good talent riding it.

"As for Dylan's weekend. I can't say anymore than he just needs to keep grinding away. He's riding well but the pro ranks can keep beating you down and he's not getting the breaks. Admittedly he didn't get the best of starts this weekend and therefore had even more work to do, so he needs to improve there. That may be why he just made that little error and lost the front end. It happens and he has to stay positive. The second moto was much the same really. He was starting to come through from a bad start but then Jordan Eccles had a big crash and it was red flagged. I wish Jordan and healthy recovery, I hearing he's broken his back. So that was a low moment to end the series. Going back to Dylan, like I said, he just needs to keep believing and chipping away at it. That's the nature of the beast when you're trying to establish yourself in the pro ranks. It's the biggest step up you make in a motocross career and there's no quick route."

Lewis Hall #19 - KX250F

"It's been a good weekend and a good series, even though I've been struggling a bit this weekend with tonsillitis. The new track was a lot of fun, so thanks to the MX Nationals crew for that and for running such a good series. I've really enjoyed it and focused on each race as it came along. I've learned a lot this year. It was my first full year on a 250 and it's obviously gone well. I've had such a good team in my corner giving me such good advice and that's definitely made it easier. So I'd like to thank my mechanic Shawn who's done an awesome job, Jeff, Percy, Mark at RSS suspension, all my teammates, Ross Burridge and all the Kawasaki UK guys, all of my sponsors, my girlfriend, but especially Mum and Dad for all that they do and giving me the opportunity. Now, I'm going for a holiday, then I've got two more races to go to finish off the season. I want to win those and then we're off to California to start training for 2018, so I'm really excited about that. I know I've got to work harder than ever to get ready for my first pro season."

Bobby Bruce #579 - KX85

"I've had a lot of fun this weekend. The track was really good. There was some big ruts out there and I like that, my bike turns so well so I was loving throwing it in there. It's been a good season for my first year in the class and with Team Green. I think I've learned quite a bit this year. Not just with my own riding but also what I've got to do to be in battling for a championship. I want to win all the time but I know it's been a bit of a learning year against some of the older lads. We've been discussing 2018 and I'm excited about that because I know we're going to be an even stronger team with even better equipment and bikes. The team have been so good to me in my first year, so thanks to them and all of my sponsors. Now I just want to finish off the Thor British Youth Nationals really strong and try and win there. Hopefully I will and that will be a great way to end the year before we go off to California to start training for 2018."

Dylan Woodcock #600 - KX250F

"I'm trying not to be frustrated but it's hard you know? I feel like I'm riding pretty well and the team and everyone around is telling me that but it doesn't show in my results. I know they're right in what they're saying and to just keep plugging away but obviously I want better results than I'm getting. Things were starting to come together earlier on in the season and then I broke my foot and it's been even harder since then than what it was before. I've got one championship race left and I just want to have a decent weekend to take some confidence into the off season. It's been tough but I'd like to thank Team Green, all of my sponsors, my dad, family and friends for their support."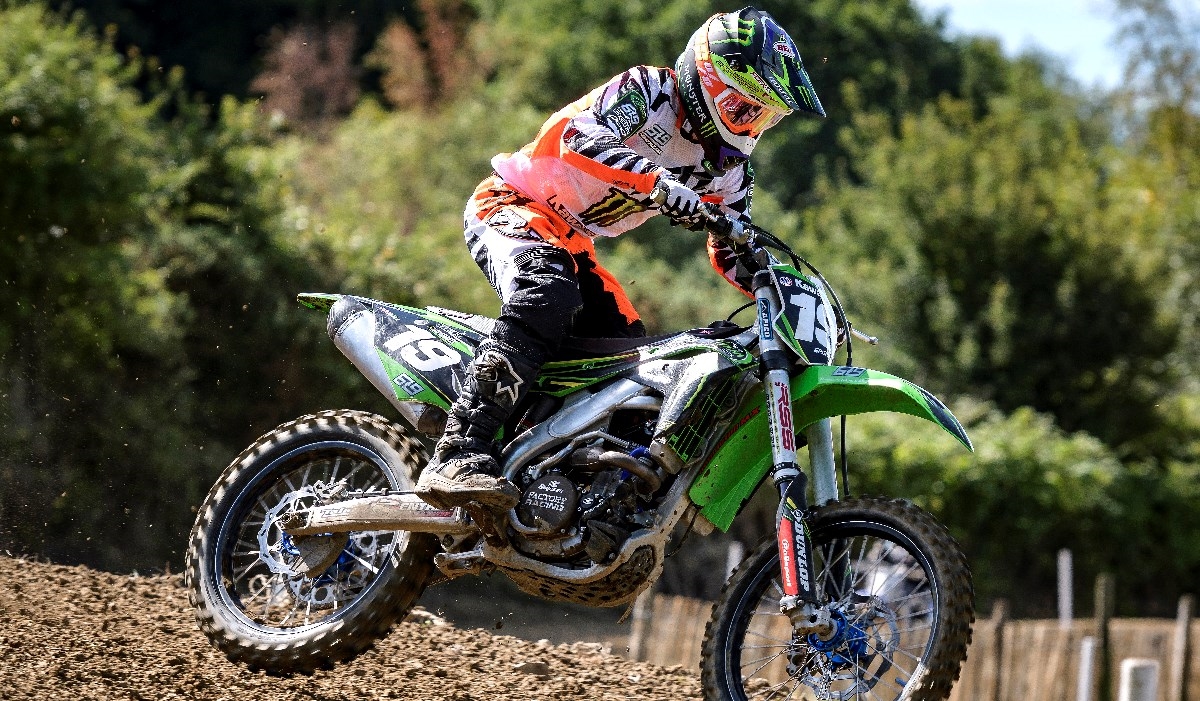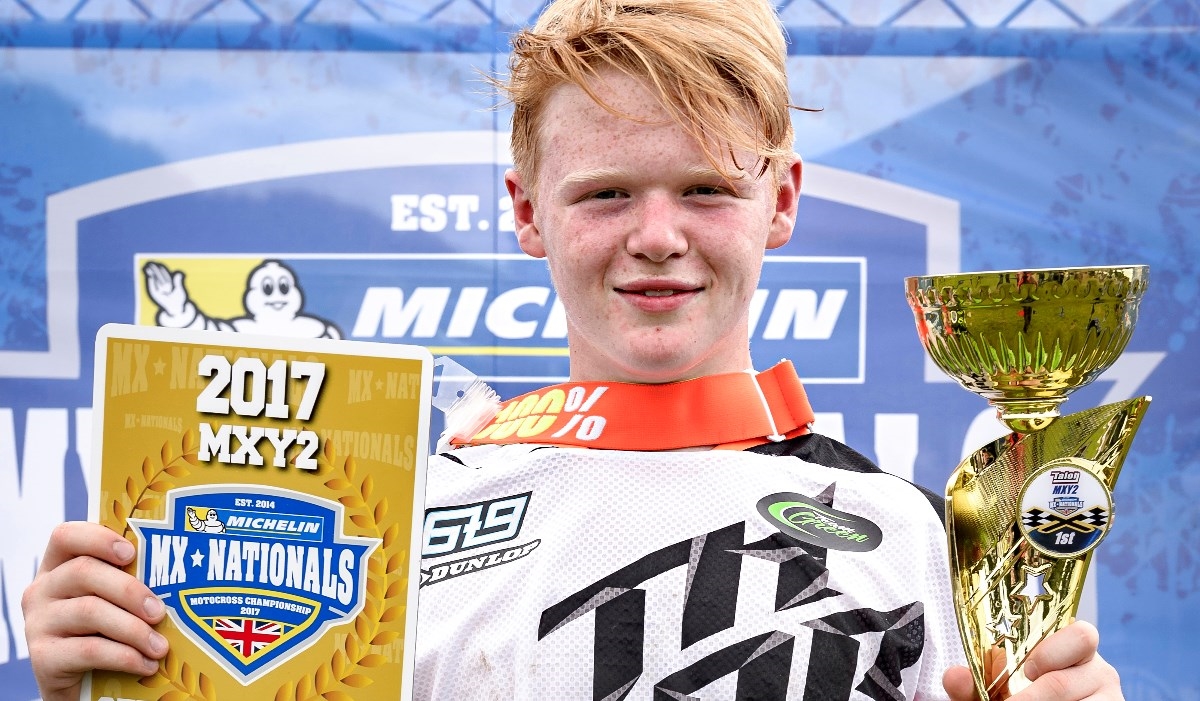 Return to the previous page