Leon Haslam and Luke Mossey re-sign with Team Green and JG Speedfit Kawasaki for 2018
Kawasaki is pleased to announce that for 2018 Leon Haslam and Luke Mossey will continue their partnership with Team Green and the official Kawasaki British Superbike team, JG Speedfit Kawasaki.
The move comes after a dramatic season for Team Green in the combative Superbike class, although one in which Luke and Leon both demonstrated they're capable of contesting for victory on the Ninja ZX-10RR.With 10 podium finishes that include 5 race wins in BSB up to this point in the 2017 season, Haslam is aiming to carry his strong form through into 2018, and will have his eyes firmly set on the championship title once more.
When asked about his decision to continue his assault on the British Superbike title with JG Speedfit and the Kawasaki ZX-10RR, Haslam said:"I'm over the moon to renew my contract with Kawasaki. We've all put a lot of hard work into producing a package, a structure and a team that can win this championship – it's something we've been working on all year."I had some options to move to world level with Kawasaki but it was an easy decision to stay in BSB with Kawasaki and continue the project we started upon because I not only want to win the championship this year but next year as well.
Also the work I do with Kawasaki Japan, like the Suzuka 8 Hours where we managed to get a second place, is all quite exciting and fun and it's fantastic to renew that and continue my relationship with Kawasaki in that respect."
On the other side of the garage, Haslam will once again be partnered by Luke Mossey, whose status as a title contender was cut short following injuries sustained after his crash at Thruxton. Speaking about his decision to remain with the official Kawasaki team for 2018, Mossey said:"I'm really happy to be staying with JG Speedfit / Bournemouth Kawasaki Team and Pete for what will be my fourth year with Kawasaki. It's a family run team so it's a nice environment to be in and I get on really well with everyone so it was a no brainer to continue with Kawasaki for 2018.
"It helps that the ZX-10RR has been really good too – it's an all-round good bike and I never feel like we have any tracks where we're weak or at a disadvantage. I think we'll be getting some upgrades next year so things are looking really good for next season and my goal is to be BSB champion."
Team principal Pete Extance said: "With two rounds of the showdown left to go it's a great feeling and position to have our 2018 BSB rider line-up sorted, I couldn't think of two riders I would rather have in the team for 2018. Leon has shown his worth already this season but he knows it's now time to show he is worthy of a BSB title; I know Leon and his team members are capable of bringing the BSB title to JG Speedfit Kawasaki and Kawasaki UK along with hopefully the Manufacturers' title too.
"Luke has had some bad luck with his injury especially after being so strong and leading the championship for so long. He would have certainly been a title contender had he been free from injury so for 2018 he will come back fitter and stronger and show that he too can fight to be the king of BSB."Massive thanks must go to JG Speedfit for their continued support in 2018 and that goes for all our sponsors and staff because without them we couldn't go racing."
Ross Burridge, Senior Racing Coordinator for Kawasaki added:"Despite some big crashes, injuries and a lot of drama, 2017 has been a great year for Team Green in the Superbike class. I am personally delighted that Leon and Luke have both re-signed to compete on the Ninja ZX-10RR for 2018 and we will be collectively gunning from the outset to ensure both riders are in the showdown and ultimately that we take the title. We still have a lot to do to make sure we are on top come Brands Hatch this year but I am very excited about what the new season will bring."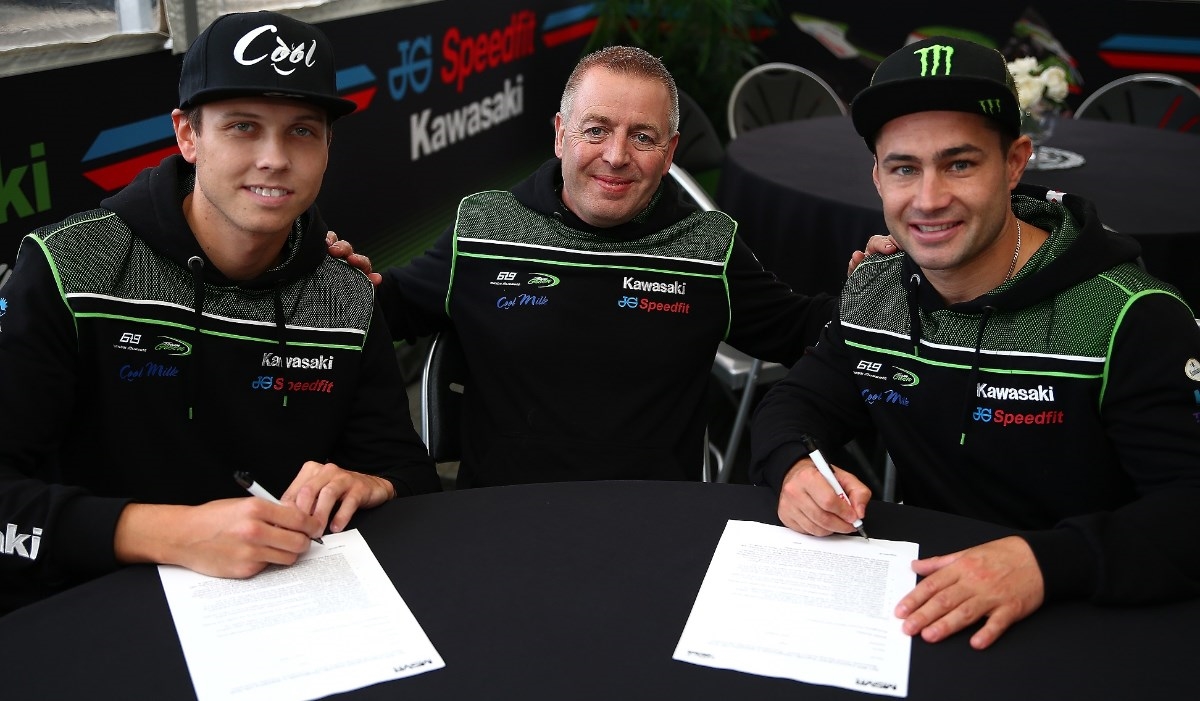 Return to the previous page