Team Green shine at the Arenacross Finale!
The final round of the Arenacross UK Tour took place in spectacular fashion at Wembley Arena on Saturday, with Team Green Holeshot Kawasaki ending the season in spectacular fashion, the night being full of success and drama. The sell-out crowd witnessed some of the best racing of the Tour with all of the Championships going down to the wire.
All eyes were on Joe Clayton in the Pro Lites class, after dominating the series from start to end, both rider and team were hoping that he could take the title for the second time. After an enthralling first race of the evening, Joe once again took the top spot of the podium and with it the 2018 Pro Lites Championship! A quick change of graphics ensued and he came out sporting a brand new number 1 plate for race 2 and made sure he took the overall on the night – a fantastic achievement.
It was a night of mixed fortunes for our Pro riders. Adam Chatfield continued his late run of form and looked impressive all day. Two strong heat races saw him put directly through to the Main Event, in which he took a fine 5th place finish. His team-mate, Jack Brunell was hampered by bad luck all evening long. In his second heat race, a freak accident say a fellow rider's handlebar stuck in his rear wheel causing the wheel to completely collapse. This saw Jack landed in the dreaded LCQ head to head races. After winning his first two races, he had a coming together with Ashley Greedy in the final two lap sprint ending with both riders being, in our eyes, unfairly disqualified from the Main Event. A sad end to a great Tour for Jack.
The Supermini class has been very competitive this year with some excellent riders battling it out, none more so than our very own Raife Broadley. Despite being younger and a lot smaller than many of his competitors, Raife has battled hard throughout the Tour to end in 3rd overall, a great achievement in his first year with Kawasaki.
Senior Racing Co-ordinator for Kawasaki Motors UK, Ross Burridge said; "The Arenacross Tour has once again been fantastic, and I am extremely proud of what we have achieved as a team. Joe has been phenomenal across all 7 rounds, I can't think of the last time I witnessed such domination in any sporting category. The Pro guys have had a tough couple of months with the competition being so fierce, but they have dug deep and pulled out some decent results between them. Raife has also performed brilliantly, only being drafted into the team just before it all got going. He's got a big future ahead of him for sure. I would like to thank everybody involved for their efforts, and hopefully we can come back even stronger to do battle again in 2019!"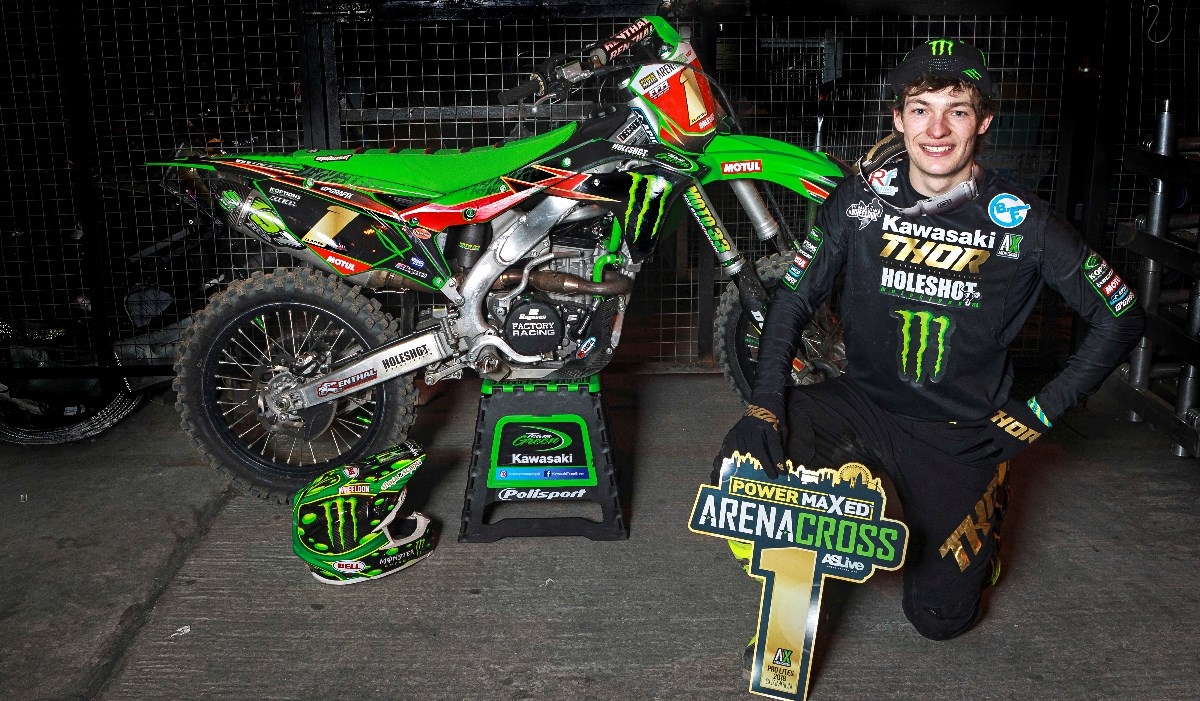 Return to the previous page