Hard lines, but another podium
The Team Green boys were out in force at the opening round of the Michelin MX Nationals this past weekend. All four Team Green MX racers were lining up under the awning for the first time in 2018 and they were joined for the first time ever by the Team Green academy riders for their inaugural national race.
In tough conditions (the first day was cut short due to state of the track) the lads all got their championship underway, some better than others, but it was clear to see the drive and determination by all. The highlight of the weekend for the team being a superb third place overall for Ben Mustoe on his national debut for the team in the small wheel class.
Jeff Perrett - Team Manager
"After the tough pro debut for Lewis at Culham last week, where he was flying solo, we were all looking forward to this weekend. Just to have the whole team out in force and of course our new academy team and families too. The atmosphere around the camp was awesome, even though it was wet and cold and very rewarding to see the lads all helping each other out and getting along. The results weren't particularly great, but the effort and commitment was. You get weekends like it every so often and it's just unfortunate that we had one like this for the round. I think a lot of it was to do with first round nerves and the occasion for the lads.
"Ben's result is the obvious high point. He was awesome on his debut and lead the small class for quite a while in the final moto. He was so nervous he was physically shaking in the waiting zone, but now he has his first official national race for the team out of the way and a podium to kick off with he'll settle down and that's exciting for us and him. Raife just had a bad day at the office. He just tried too hard I think and a couple of crashes at key moments in the race cost him dearly. He was in the mix at the sharp end in each moto until he made those mistakes. Again, I think he was a bit nervous as it was also his first outdoor race for the team and he obviously wanted to do really well. I've told him it's a long season and we're just starting out. His time will come soon enough. Kacey looked good and eased into it after missing all of last year, it was clear he was a bit ring rusty. It was actually going okay all things considered until he tweaked his knee, the same one as he had surgery on, and it ballooned up. He decided he wanted to try and ride the next day to salvage points but it was always going to be hard work, not helped by a mechanical DNF. Lewis looked better and more relaxed this week, now he's got that first pro race out of the way. He was going well until a crash in the opening moto. The second moto was again going good until bizarrely his start device got jammed on after one lap. After he came in to get it fixed he went out and showed his potential setting the seventh quickest MX2 time. He's just got to keep working hard and being realistic because it's going to be a long rookie season.
"The academy lads were a pleasure to work with. They were also nervous because it was also their first ever MX Nationals and their first major race of the year. Harrison was unlucky to split a radiator hose in the opening moto, otherwise I think he could've made the top six in the small wheel class. James had his issues too with a couple of spills and then a broken throttle tube but learned loads as did Hudson, who just kept plugging away after an early crash dented his confidence a bit. Jamie had a mechanical issue in the first moto and had to retire, but had a better second moto before running out of steam in the final race so he needs to look at that.
"Overall it was a challenging weekend, but one we'll all definitely learn from. I can't stand negativity, my glass is always half full and we have to look at the positives. I'm fully aware it's the first year for many of the lads in a new class and my belief in their potential won't drop off the back of one tough weekend. In fact, the attitude their showed at the end of the weekend to turn it around has only encouraged me further." 
Overall Results - Michelin MX Nationals - Round 1, Preston
Team Green MX UK
Ben Mustoe - KX85 - Small Wheel class - 3rd
Raife Broadley - KX85 - Big Wheel class - 14th
Kacey Hird - KX250F - MXY2 class - 16th
Lewis Hall - KX250F - Pro MX2 - 19th
Team Green MX Academy 
Harrison Greenough - KX85 - Small Wheel class - 9th
Hudson Roper - KX85 - Small Wheel class - 10th
James Orchard - KX85 - Big Wheeled class - 23rd
Jamie Dixon - KX450F - Expert MX1 - 28th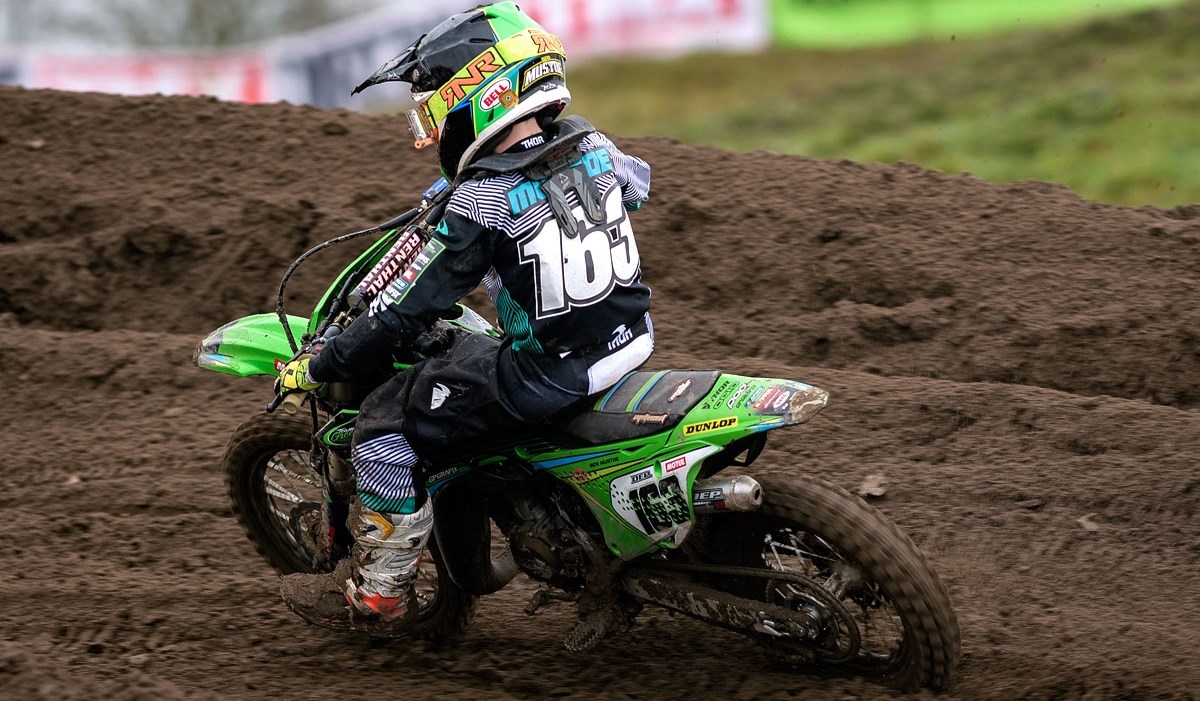 Return to the previous page