Another weekend, another podium!
Kawasaki Team Green UK rolled into round three of the Michelin MX Nationals feeling good and confident after the last couple of races that have seen steady progression. The classic, old school track at Lyng, Norfolk was always going to pose a tough challenge, especially for the team's two KX85 riders - Raife Broadley and Harrison Greenough who had never raced there before. Overall, it was another good weekend for the team.
Jeff Perrett - Team Manager.
"Lyng is a tough place to come, for anyone. It's fast, rough and technically difficult in places so I'm pleased with how the lads tackled it. It was awesome to see Harrison get another national moto win. He had a a couple of issues and a bad start in one that cost him a shot at another podium but his confidence is growing all the time. He now lies second in the championship at the half way stage so he's really got something to shoot for now. Raife on the other hand doesn't, other than just coming out swinging for the rest of the year. He's had a bad run and we're going to shoulder a lot of that because we're just not where we need to be with his race bike. That will put right by the next round in July, no doubt about it. The big wheeled 85cc is a tough class and we're not giving him a good enough fighting chance to race right near the front. When he does get up there with a good start he's trying too hard to turn it around and he's also been really unlucky at times. Like this weekend with riders crashing right in front of him. We've now got the second half of the season to turn it around for him and I'm confident we will, as much as he will.
"It was great to see Kacey battling from start to flag all weekend. He had some great scraps out there on track and he nailed down another podium finish in the MXY2. I can slowly see his mojo coming back and hopefully he'll be pushing on for race wins for the rest of the year. I just want to see the kid ride relaxed and without fear of making mistakes, and most importantly with a smile on face. It was an interesting weekend for Lewis to say the least. We used this weekend to dial in a brand new race bike so he dealt with that well. Unfortunately he blew a fork seal in the opening moto and all the oil went over the front disc so he had no front brake. That happened early on and that was that. He then was involved in the big first turn pile up that took Martin Barr and Josh Gilbert out of the running for the restart. Two laps into the restart Lewis was in second and had a sniff at his first ever pro win. To his credit he rolled the dice and went for it but had a big whipe out trying to make the pass for the lead. I don't know how, but he somehow got up from that without losing second place and got back on the gas. He started to close back on the Ashton Dickinson who was in the lead but then he spun out when his rear wheel just went over the top of the berm with one lap to go and he lost three places! So he didn't get the results he wanted but I loved the fact he went all out for the win."
Harrison Greenough - #714 SW KX85
"I happy that I won another moto, but I want to win more. I had a two bad starts and that messed up my chance of maybe winning more and making the podium. I'm second in the championship now and I want to try and win more races and an overall before the year is finished. That's my target, so if I can do that I might have a chance at the title."
Raife Broadley - #72 BW KX85
"It hasn't been a good weekend. I've just struggled. The track was really tough and I think the time I've had off the bike recently caught up with me today. The team are right behind me and I know they are going to do all they can along with my dad to get the bike better because we've had a few little issues with the race bike and that doesn't make it any easier. I think we now know what it is and once it's right it will be ripping, and hopefully so will I!"
Kacey Hird - #28 MXY2 KX250
"I enjoyed this weekend. The track was so rough in the last race but I liked the challenge. I've still got more to find to be racing right in there with Ike (Carter) and Kyle (McNicol) but I was closer to them this week and I had a lot of fun racing Bobby (Bruce). Another podium is good for me but I'd like to be a couple more steps up and I'll keep working hard to try and do that. I'm going to work hard to get ready for the next British championship at Blaxhall. I didn't ride well there last year and I'll be putting that right this time."
Lewis Hall - #9 MX2 Pro KX250
"It could've been better and it could've been worse. The new bike is just that little bit different from my previous race bike so it took a little while to get used to it but once I did it was awesome, so thanks to Glenn (Whittock) for that. The first race was just one of those things. Lyng is so fast in places you definitely can't compete at this level without a front brake, especially down those hills. I was lucky in the second one not to end up injured like Martin and Josh because I was right in the thick of that first turn pile uo. On the restart I just tried to get a solid moto under my belt and I was feeling good. When I went for the pass on Ashton I didn't realise it was for the lead, I only found that out after I crashed! I started to catch him up again but then the rear wheel just broke loose, not a lot but enough to spin off the backside of the berm and spin me around right into all the group of riders behind me. A bit disappointing but I don't have any regrets about leaving it all out there on the track. I'm feeling good at the moment and know my speed is improving all the time so, hopefully I'll make some good results stick soon."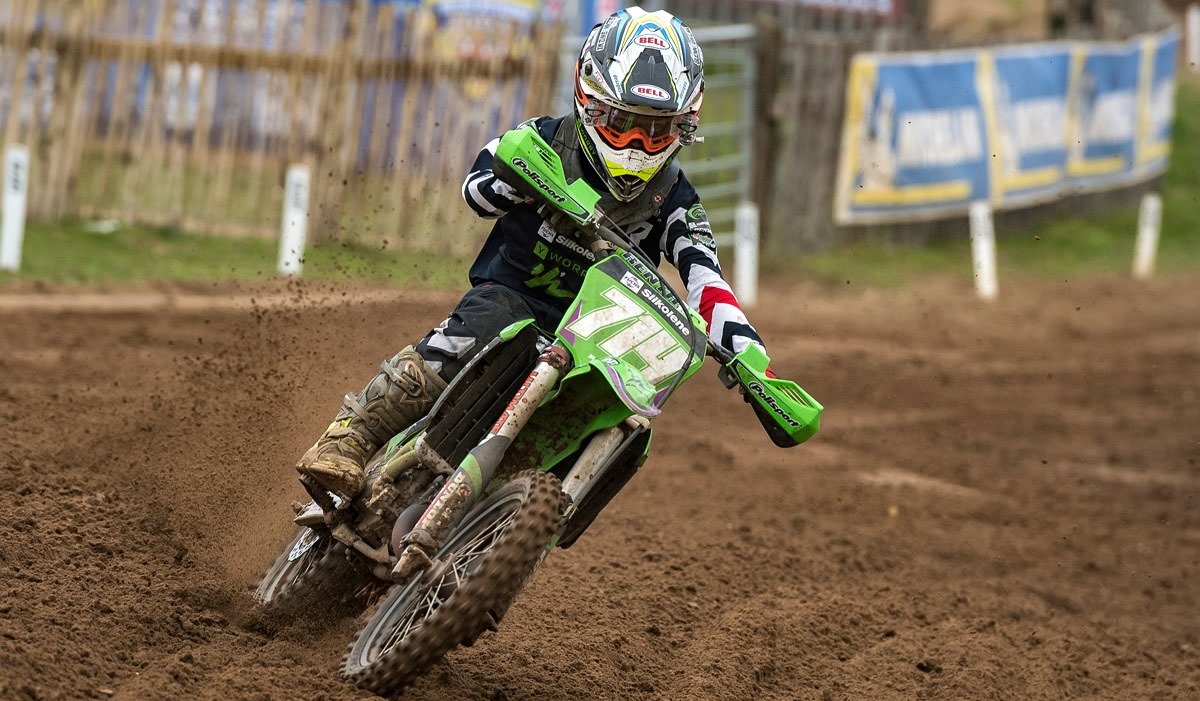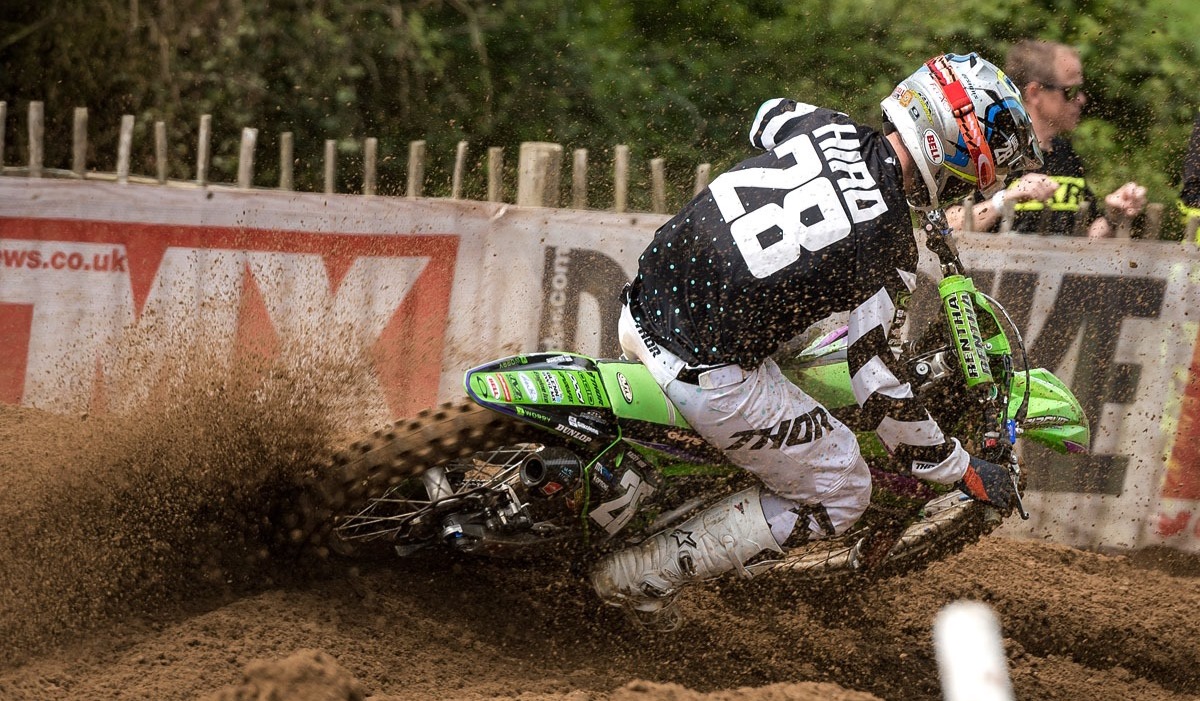 Return to the previous page