Massingberd-Mundy Named Team Green Title Sponsor
Lincolnshire-based Massingberd-Mundy has partnered with Kawasaki Motors UK to become the title sponsor for Team Green racing in the 2020 British Superbike series.
The move is a first for Team Green and will see Kawasaki machines across all classes compete under the same team name of 'Massingberd-Mundy Kawasaki' and run the same livery. The all new Team Green structure will reinforce Kawasaki's commitment to both the series and provide a ladder for talented riders to climb as they progress throughout their racing careers.
Massingberd-Mundy products are produced on the South Ormsby Estate in the Lincolnshire Wolds Area of Outstanding Natural Beauty. The company is best known for its Massingberd-Mundy Lincoln Red Beef, produced from one of the world's largest herds of rare 'original population' Lincoln Red cattle which are reared on the 3,000-acre estate and it will soon launch a collection of dry gins in 2020. Already having supported the championship for several years, the new partnership will see Massingberd-Mundy step up to title sponsorship status for the first time.
Massingberd-Mundy shares the Team Green ethos of young rider development and the vision of offering a platform to move up through the ranks of BSB racing, with the ultimate goal of becoming a rider for Kawasaki's official Superbike effort. By bringing all the Kawasaki supported teams under one banner and working together more closely than ever before, Kawasaki believes that there has never been a more direct pathway to the top.
With Kawasaki-supported teams such as FS-3 Racing, Gearlink Kawasaki, MSS Performance and more, all featuring a talented rider line-up, the Massingberd-Mundy Kawasaki brand will attract a great deal of attention - hopefully at the front of the field!
As well as being available online, Massingberd-Mundy products will be on sale to the public at all twelve rounds of the British Superbike Championship next year. These will include the soon-to-be launched Massingberd-Mundy Dry Gin.
Jon Thornes, Custodian of South Ormsby Estate, home of Massingberd-Mundy, said: "I've been involved in British motorsport for many years both as a fan and a sponsor through my various business interests.
 
"Being able to support the teams and their riders at every level of the British Superbike Championship, from the juniors to the premier class, is hugely rewarding. I think we have a championship-winning team and I looking forward to seeing what 2020 will bring.
"I'm also pleased to be continuing my long-standing relationship with Kawasaki UK and combining my two passions – motorsport and local Lincolnshire produce. Both are synonymous with quality and have a long and respected pedigree."
Kawasaki Motors UK Senior Racing Coordinator, Ross Burridge said he's pleased to see Kawasaki's Team Green racing efforts take this new form:
"It's no secret that racing at this level costs a lot of money and it would be very difficult to achieve the results we do without significant support from outside sponsors such as Massingberd-Mundy," explained Ross.
"As a sponsor, they have a passion for racing, and want to achieve success on track, as well as for their business away from the track. We welcome them with open arms for the 2020 season and beyond as we look to retain the championship winning successes of the past few seasons."
ENDS
Notes to Editors
Massingberd-Mundy products are produced on South Ormsby Estate, a 3,000-acre country estate in the Lincoln Wolds AONB. Massingberd-Mundy products include Massingberd-Mundy Lincoln Red Beef, The Old Rectory Guest House and a soon-to-be-launched collection of dry gins. Massingberd-Mundy products are part of the estate's ambition to support the growth of a dynamic rural economy which protects the area's rich heritage while creating jobs and sustaining livelihoods for local residents. Find out more about Massingberd-Mundy products by visiting www.southormsbyestate.co.uk
Massingberd-Mundy Kawasaki Team Structure:
FS3 Racing Kawasaki
Superbikes - Ninja ZX-10RR. Riders: Danny Buchan and Lee Jackson
MSS Performance
Superstock 1000 - Ninja ZX-10RR. Riders: Chrissy Rouse and Tom Ward
Gearlink Kawasaki
Supersport - Ninja ZX-6R. Riders: James Westmoreland and Ben Currie
Affinity Sports Academy
Junior Superstock - Ninja ZX-6R. Riders: Eugene McManus and Kade and Luke Verwey
British Junior Supersport - Ninja 400. Riders: Owen Jenner, James McManus and Ash Barnes
Savage Spanner Racing
Sidecars - Ninja ZX-6R. Riders: Ricky Stevens/Ryan Charlwood and Ben Holland/Jed Pilmoor-Brady
For more information on Massingberd-Mundy Kawasaki visit: www.massingberdmundykawasaki.co.uk
You can also follow the team on:
Facebook @massingberdmundykawasaki
Twitter @MMundyKawasaki
Instagram @massingberdmundykawasaki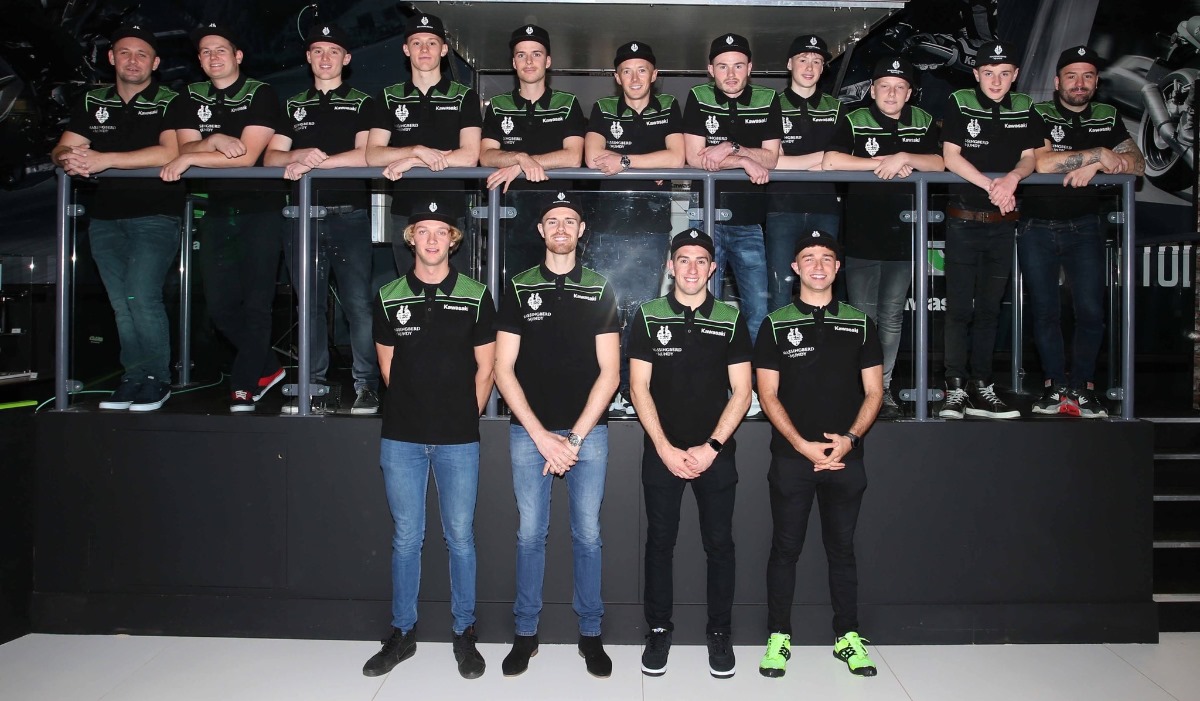 Return to the previous page